XJ220C Racing, Alan Fearnley, 1993
The Artwork
This is the only painting by artist Alan Fearnley in the Jaguar Daimler Heritage Trust's Collection, and was commissioned by Unipart. It depicts two of the three XJ220Cs that were entered for the 1993 Le Mans 24 Hour Race by TWR Jaguar Racing.
The two cars shown are car # 50 driven by John Nielsen, David Brabham and David Coulthard which went on to complete 306 laps and was the first GT Class home. It is being followed by car # 52 which didn't fare as well retiring after 176 laps with overheating problems.
The painting is currently on public display in the Collections Centre at the British Motor Museum at Gaydon. 
The Artist
Alan Fearnley was born in Yorkshire in 1942 and studied at Batley College of Art. He worked for several years as a commercial illustrator before going independent. His subjects have included aircraft, trains and boats but over the past twenty years, classic and racing cars have become his main source of inspiration. He has created more than a hundred automotive paintings and more than 70,000 copies of his works have been sold worldwide with three books being published on his work.
Most of his paintings are in the style of impressionism, using oil and acrylic paints and many of his most popular paintings have been reproduced as prints, posters, albums and calendars.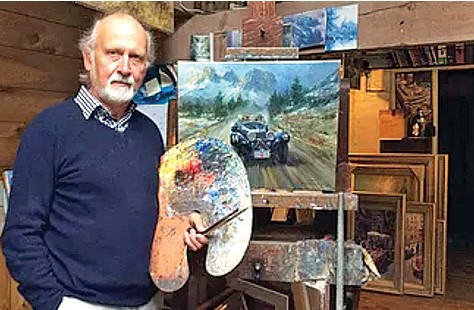 Fearnley's oil on canvas paintings have been commissioned both by private individuals and companies from Jaguar to Rolls Royce and Mercedes Benz were so taken by his illustrations that they published an album of his works as a gift for their most important customers. Many of his paintings have a real historical feeling mixing people, cars and architecture, whereas some of his commissions by necessity depict contemporary cars all of which are shown in great technical detail.
This painting of the XJ220Cs at Le Mans was commissioned by Unipart and presented to Jaguar Cars. The plaque on the frame reads: 
'Presented to Nick Scheele, Chairman of Jaguar Cars Limited In appreciation of the strong bond of partnership between our two companies. The Unipart Group of Companies.'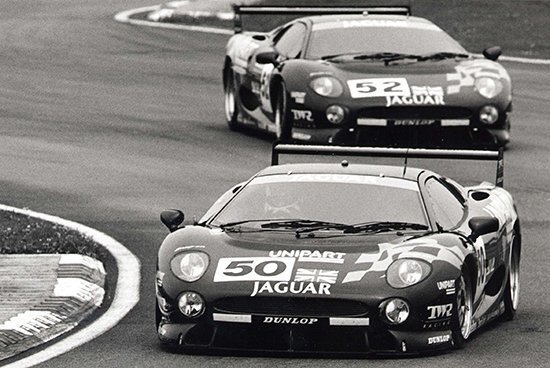 XJ220 Concept and Production
Jaguar Cars famously won the Le Mans 24 Hour Race 7 times: 1951, 1953, 1955, 1956, 1957, 1988 and 1990.
In 1988 Jim Randle set out to see if he could design a road car based on a Group C Le Mans racing car and the prototype XJ220 was displayed at the October 1988 Birmingham Motor Show. 
This V12 engined 4 wheel drive car never went into production but Jaguar and TWR formed a new joint company, Jaguar Sport, to put into production a turbo charged V6 powered version of the XJ220.
From 1992 to 1994, a total of 281 XJ220 cars were produced by Jaguar Sport, operating out of a factory at Bloxham in Oxfordshire in which TWR had previously built XJR15s.
XJ220 GT Class Win at Le Mans and Disqualification
Most production XJ220s were built for road use but Jaguar Sport prepared a number of them to race specification and TWR Jaguar entered a team of three for the 1993 race. Two of the cars failed to finish with car # 51 of Armin Hahne, Win Percy and David Leslie only completing 6 laps before overheating. Car # 52 driven by Paul Belmondo, Jay Cochran and Andreas Fuch lasted longer but failed with the same problem after 176 laps.
The subject of the painting, car # 50, driven by John Nielsen, David Brabham and David Coulthard completed 306 laps to provisionally win the GT Group category. However before the race there had been a question over whether or not the car should have been running with  a catalytic converter (it didn't have one fitted). The production XJ220s had them fitted but none of the race prepared XJ220s, nor any of the other GT Group cars did. TWR Jaguar were permitted to race under a waiver pending investigation.  
A month later, they were disqualified on a technicality – Jaguar's evidence and appeal had been filed correctly with the ACO (Automobile Club de l'Ouest), but not on time with the French motorsport authority (FFSA). The 2nd place Porsche 911 of Jürgen Barth that had finished 2 laps behind was then deemed to have won the GT Class.
Concept and Production XJ220
The Jaguar Daimler Heritage Trust has the original V12 engined, 1988 XJ220 Prototype in the Collection along with the pre-production V6 engined chassis # 8.
The XJ220 Concept Car had chassis, engine and drive train based on the Jaguar Group C racing cars, with the addition of a prototype four wheel drive system. At the same time, it offered traditional Jaguar qualities, with a superb leather interior, and the beautifully shaped aluminium body. It was never intended to be a production car, merely a demonstration of the company's abilities. However, demand for the car was so great that a feasibility study was carried out, and in late 1989 the project was approved.
The Production XJ220 was somewhat different from the concept, with a TWR V6 engine and rear wheel drive only, and originally sold at a list price of £400,000. The top speed was around 213 mph (343 km/h), as measured in independent road tests – enough for the XJ220 to claim the title of the fastest production car in the world at that time.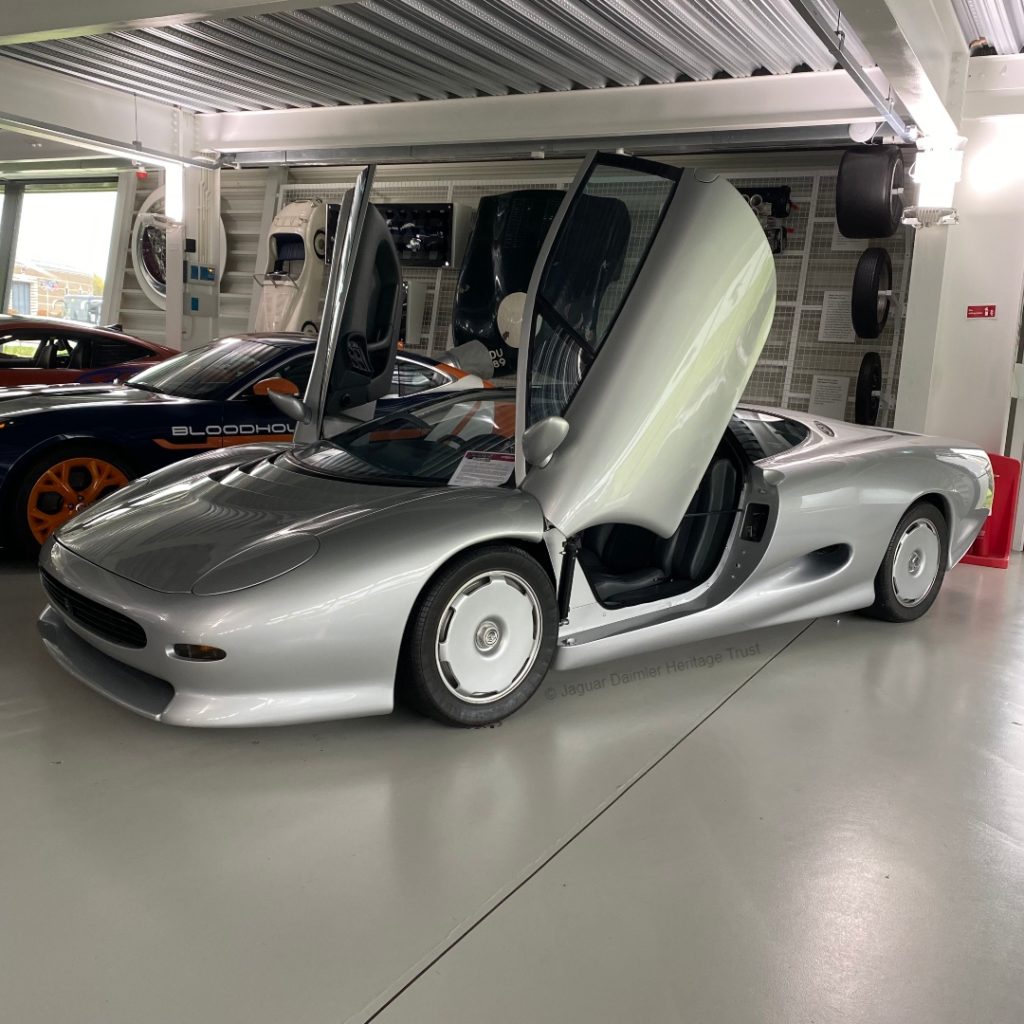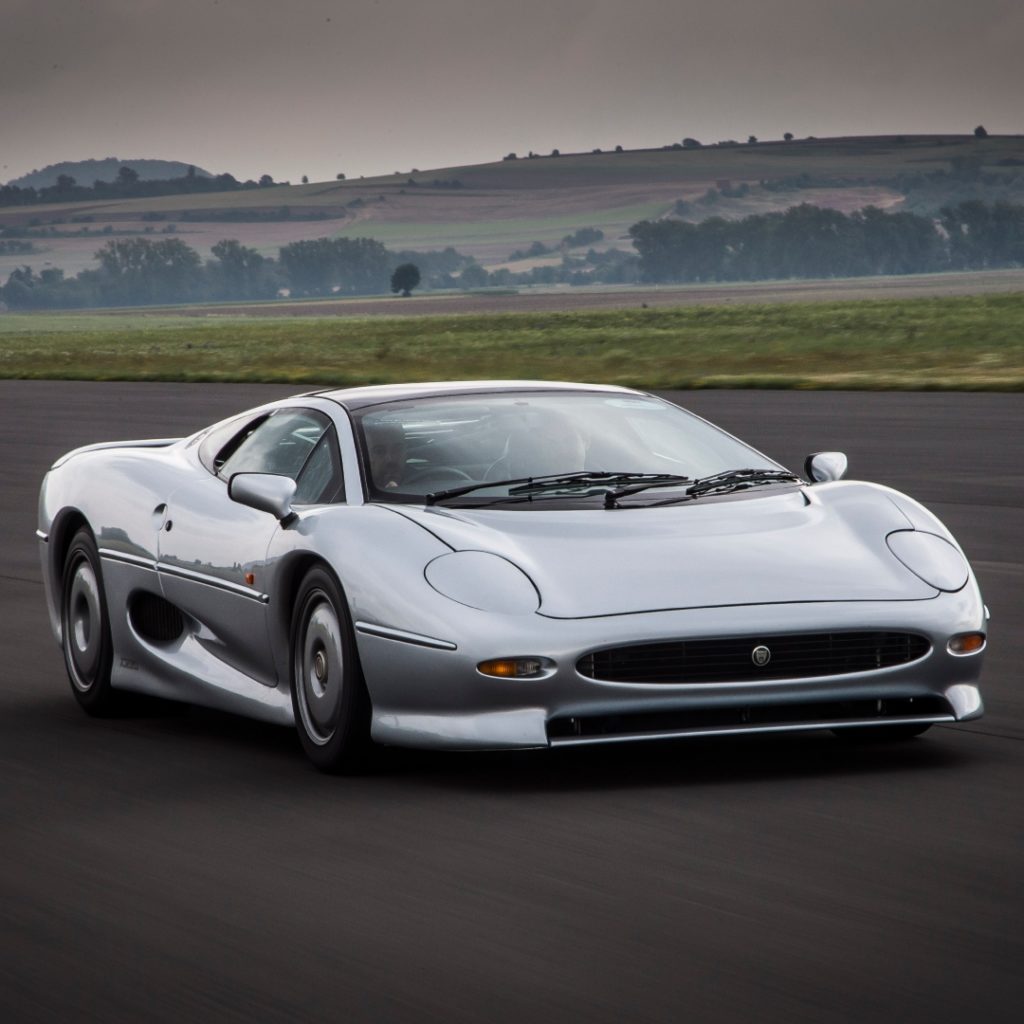 Click either of the buttons for more information on the Concept or Production XJ220s: