1907 Daimler TP 35 DU 541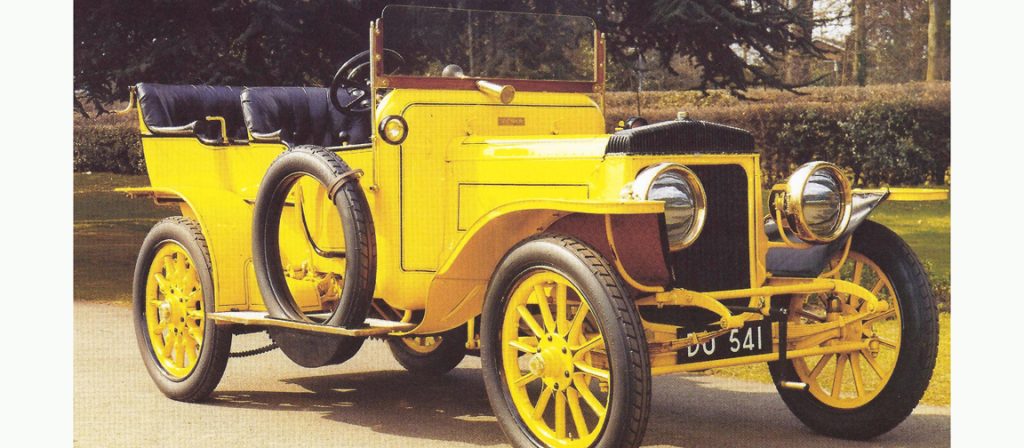 This particular Daimler TP35, with its 8.5 litre four cylinder engine, was originally a Daimler works car, a sister to the one which famously set the 'Fastest Time Of Day' in the very first hill climb at Shelsley Walsh in 1905, driven by Ernest Instone, General Manager of Daimler.  It has a works number plate DU 541.  After several decades languishing at the Daimler factory, it was suggested in 1955 that Rupert Instone, Ernest's son, should run the old Daimler at the Shelsley Walsh Jubilee meeting that autumn.  It was in poor condition but it did manage the drive from Coventry to Shelsley and up the hill.  After this it was tidied up and went initially to the motor museum at Beaulieu before coming to the Coventry Art Gallery and Museum (the precursor to today's Coventry Transport Museum) in 1967.  It was rebuilt during the 1970s under the supervision of Mike Bullivant and had another outing to Shelsley Walsh in 1979 where it was driven up the hill by the famous Bill Boddy, editor of MotorSport magazine from 1936 to 1991.  The car was eventually acquired by the Jaguar Daimler Heritage Trust in 1997, since when it has been kept in good running order and tackled Shelsley Walsh again in 2018.
The roots of the British Daimler Company derived from the founder of the German Daimler company.  Although the two organisations were quite separate from the turn of the 19th century, both owe their existence to one man.  Gottlieb Daimler had been experimenting with internal combustion engines from 1872 when he became Technical Director for Doktor N.A. Otto in Germany.  Ten years later, Daimler continued his pioneering work at Cannstatt where he was joined by Wilhelm Maybach.  During this time, Daimler was taking out patents on his new engines before using one to power his first motor carriage in 1886.
A British engineer called Frederick Simms was able to buy the patent rights for the British Empire (except Canada) and formed the Daimler Motor Syndicate Limited in London in 1893.  The company was to manufacture Daimler engines in Britain and later, in 1895, became the Daimler Motor Company Limited and progressed to the manufacture of complete cars.
At that time, motorists would often purchase a chassis which would be sent to a coachbuilder for the body to be built and fitted.  This explains, in part, why there can be so many variations of bodies built on the same chassis.  Thus the 35 horsepower open tourer car in the Trust's Collection has a four seat tonneau body, possibly built by Daimler, whilst King Edward VII took delivery of a landaulette on a similar chassis in 1907.  By the time these cars were built, the company employed more than 2,000 people and was earning nearly £200,000 a year in profits.
Registration Mark: DU 541
Chassis Number: 4312
Owner: The Jaguar Daimler Heritage Trust
Inventory Number: 7/D.05
Price when new: £1,075
Price: 796 Weeks Average Wage