1937 SS Jaguar 2½ Litre Saloon CDU 700
This vehicle is on display in the Jaguar Gallery at Coventry Transport Museum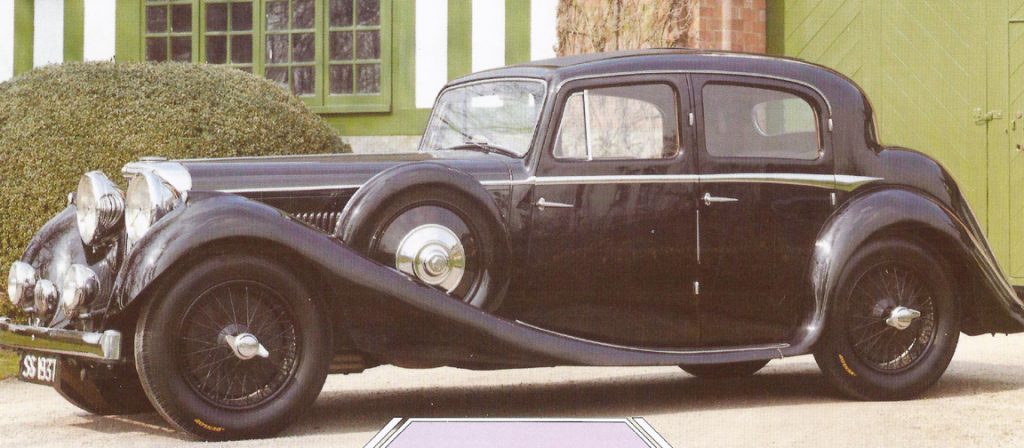 This car was used by William Lyons' wife, Mrs Greta Lyons (later Lady Lyons) for her own personal transport until 1946, and was then retained by Jaguar Cars.  It is therefore known as the Lady Lyons Car.  The knowledgeable enthusiast will spot that the radiator badge is a non-standard design, made especially on Mrs Lyons' request.
Launched at the Mayfair Hotel, London in September 1935, this was the first model to carry the Jaguar name.  When the car was revealed to the assembled journalists, William Lyons asked them to write down a price they expected the new car to sell for.  The average guess was £632, and there were gasps of surprise when Lyons announced that the car would cost £395 for the 2½ litre saloon model. This was the first four-door car offered by the SS Company.  Together with the new body and the new name came a new overhead valve engine, developed with the help of consultant engineer Harry Weslake.  This six-cylinder engine gave 102bhp, a great improvement on the 70bhp which had been available from the SS1 side-valve engine.
For the first two years, the Jaguars had coachbuilt bodies with wood frames, until the company adopted an all-steel body for the 1938 model year.  Although the new manufacturing process caused many teething troubles, it eventually allowed a dramatic increase in production.  Jaguar was the first of the small specialist car manufacturers in Britain to adopt all-steel bodywork.
The 2½ litre saloon was to remain in production up until 1949 by which time over 6,777 had been built, of which 3,444 were the original coach built cars.  There was also a four-cylinder 1½ litre model, and after 1937, the range was supplemented by the more powerful but otherwise identical 3½ litre model, while drophead coupé bodywork was introduced for all three models.
The 2½ litre could reach a top speed of 86mph and return 21mpg.
Registration Mark: CDU 700
Chassis Number: 12462
Owner: The Jaguar Daimler Heritage Trust
Inventory Number: 30/S.15
Price when new: £385
Price: 126 Weeks Average Wage