1955 Jaguar Mark VII M Saloon HM Queen Mother's Car 464 HYV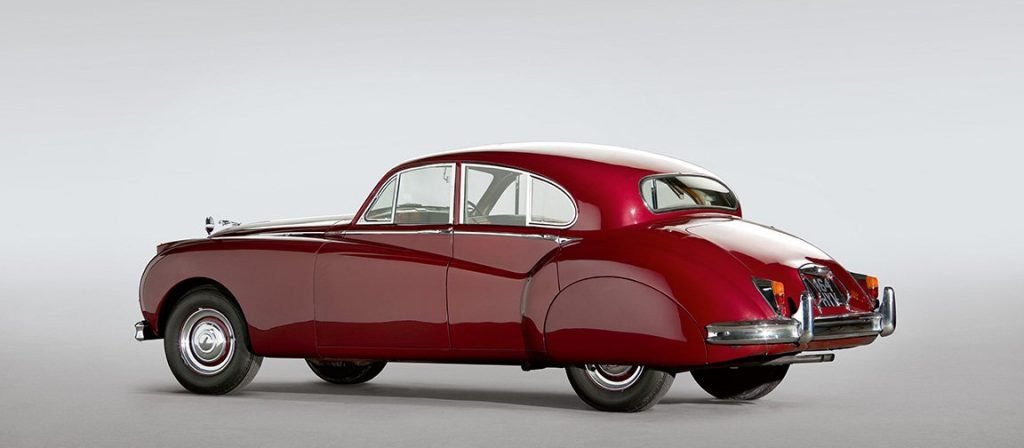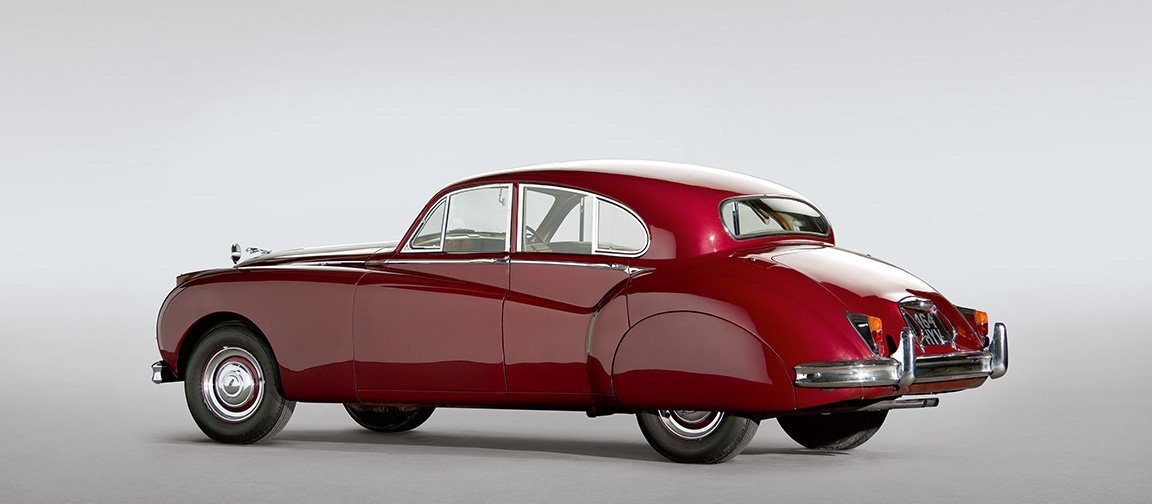 446 HYV was featured in the Summer 2018 edition of Jaguar World magazine.
It was the Mark VII model which put Jaguar on the map as a manufacturer of high-performance luxury saloons. This was the car that William Lyons had always intended the XK engine for, and after small-scale production of the XK120 sports car for two years, the Mark VII saloon followed in October 1950.  With the twin overhead camshaft 3.4 litre engine developing 160 bhp, the Mark VII had a top speed of 101 mph (163 km/h) and was the fastest production saloon car in the world at the time.
The high performance was combined with plenty of room for five passengers and their luggage, elegant styling, and a well-appointed interior.  Road holding and handling were excellent for a large luxury car.  All this was available at the modest price of £1,276.  However, most of production went for export, and the Mark VII was the first Jaguar saloon to sell in large numbers in the USA.  To suit American preference, in 1952 the model became the first Jaguar to be offered with an automatic gearbox.
Although one would not think so, the Mark VII was even successful in competition, and for some years dominated the touring car races at Silverstone, driven by among others Stirling Moss and Mike Hawthorn.  The model was also entered in rallies, and a Mark VII won the 1956 Monte Carlo Rally, driven by Adams, Bigger and Johnston.
The Mark VII attracted some famous customers, none more so than Her Majesty Queen Elizabeth the Queen Mother, who took delivery of this car in 1955 and kept it for her private motoring until 1973.
It was finished in a special metallic version of the Royal colour Claret.  This car is an example of the Mark VIIM model which was produced from 1954, but was later updated for Her Majesty with features from the Mark VIII/IX models, such as the one-piece windscreen, improved lighting and all round disc brakes.
The car came back to Jaguar in 1973.
Registration Mark: 464 HYV
Chassis Number: 727554 BW
Owner: The Jaguar Daimler Heritage Trust
Inventory Number: 049/J.15
Price when new: One doesn't discuss money.