1956 Jaguar D-type 'Long Nose' Penultimate D-type 393 RW (XKD 605)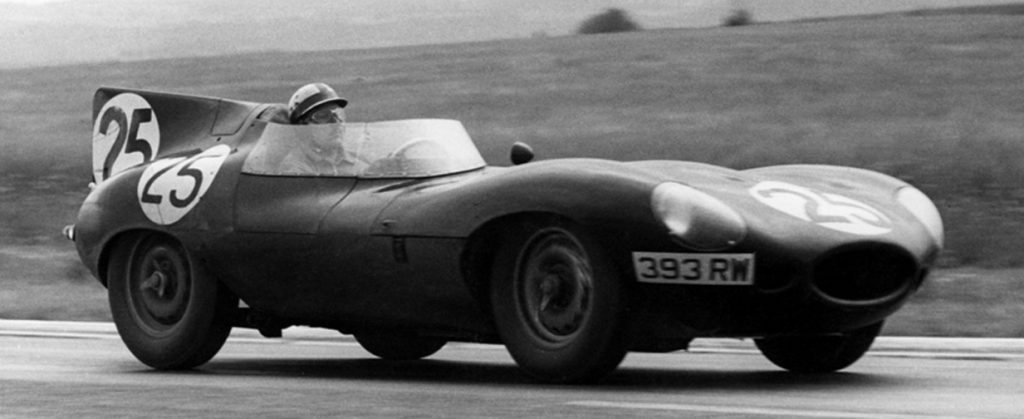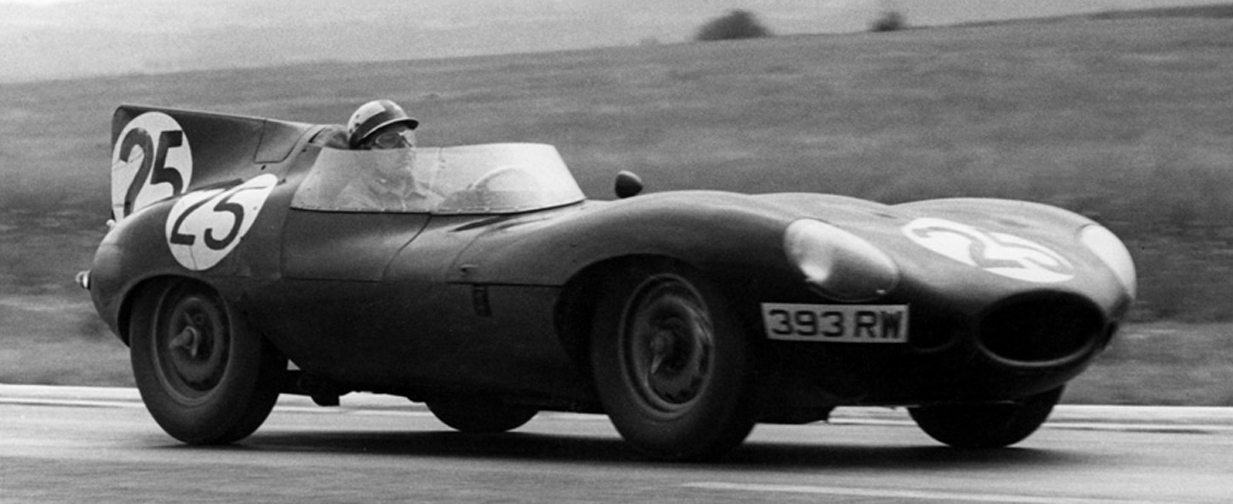 This is the penultimate D-type, built in March 1956 one of twelve "long-nose" cars, six of which were Works cars and six were Customer cars.  Fitted with the latest specification fuel injection engine it was allocated to the Jaguar Works racing team, and was entered for the Reims 12-hour race on 30th June 1956, which it won, driven by Duncan Hamilton and Ivor Bueb.
In 1956, the 24-hour race at Le Mans was held later than normal, at the end of July, to allow for reconstruction following the disaster in the 1955 race.  Cars were also required to be fitted with a passenger door, a full-width windscreen, and a smaller fuel tank.  At Le Mans, Mike Hawthorn and Ivor Bueb drove XKD 605 with race number 1 (and on trade plates 393 RW) but were kept back by persistent misfiring, eventually traced to a cracked fuel injection pipe.  They finished sixth, completing 280 laps, and set fastest lap, while the winners were Flockhart and Sanderson in an Ecurie Ecosse entered D-type completing 300 laps.  The car was rebuilt after Le Mans and fitted with a five speed gearbox.
On 13 October 1956, Jaguar announced the company's withdrawal from racing.
On 6 March 1957, the car was dispatched to Jaguar Cars New York, and was supplied as a used car to the Briggs Cunningham team and was painted in their US racing colours, white with blue stripes.  It was fitted with a new works 3.8 litre engine.  In the 12-hour race at Sebring on 23 March 1957, the car was driven by Mike Hawthorn and Ivor Bueb who finished third.
The car stayed in the USA until 1961 and then returned to England.
It was subsequently painted the original British Racing Green colour again, and was lent to Italy's National Motor Museum, the Museo Carlo Biscaretti di Ruffia in Turin, where it remained for almost twenty years before again returning to its place of birth, the Jaguar factory at Browns Lane, Coventry.  One of the most original D-types in preservation, it still has the 1956 Le Mans windscreen, passenger seat and door.
Having originally been driven on the trade plate 393 RW, on 18 April 1996 it was registered with DVLA as 393 RW, which had been issued in Coventry in 1959 to a Ford Anglia.
1956 Jaguar D-type XKD605 'Long Nose' – Race History
Date
Location & Race
Drivers
Result
1956 May 5
Silverstone
Tested but not raced
1956 May 27
Nürburgring
Duncan Hamilton
Accident during practice
Not raced
1956 June 30
Reims
12 Hour Race
Duncan Hamilton
Ivor Bueb
1st
1956 July 28-29
Le Mans
24 Hour Race
Mike Hawthorn
Ivor Bueb
6th completing 280 laps
Set Fastest Lap
1957 March 23
Sebring, Florida
12 Hour Race
Mike Hawthorn
Ivor Bueb
3rd
1957 April 28
Lime Rock, Connecticut
Walt Hansgen
1st
1957 May 19
Cumberland, Maryland
Walt Hansgen
2nd
1957 May 26
Thompson, Connecticut
Walt Hansgen
DNF
1957 June 9
Lime Rock, Connecticut
Walt Hansgen
4th
1957 June 23
Road America
Elkhart Lake
John Cooper Fitch
2nd
1957 September 2
Thompson, Connecticut
John Cooper Fitch
Briggs Cunningham
2nd
1957 September 8
Road America
Elkhart Lake – 500 Mile Race
Walt Hansgen
James Forno
DNF
1957 September 21
Watkins Glen, New York
1957 September 29
Bridgehampton
New York
Walt Hansgen
DNF
1957 October 27
Virginia International Raceway
Walt Hansgen
DNF
Walt Hansgen, driving D-types for the Cunningham team, won a second consecutive SCCA Championship
for Class C modified sports cars in 1957
1958 January 12
Miami
Walt Hansgen
3rd
1958 April 20
Marlboro
Ed Crawford
4th
1958 September 13
Bridgehampton
New York
Walt Hansgen
2nd
Source: Jaguar C-type, D-type & Lightweight E-type Register  – Anglo Danish Publications
Registration Mark: 393 RW
Chassis Number: XKD 605
Owner: The Jaguar Daimler Heritage Trust
Inventory Number: 51/J.16
Price when new: £3,878 17s 0d
Price: 422 Weeks Average Wage