1974 Jaguar E-Type Group 44 Racing Car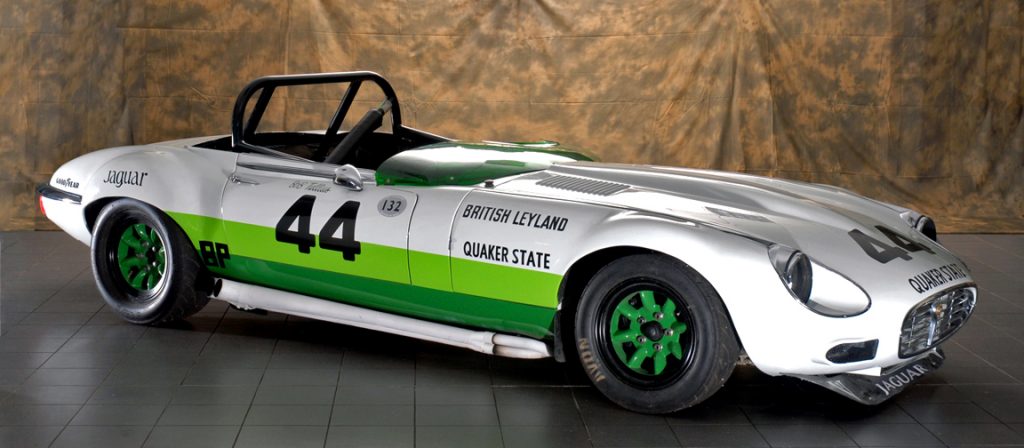 The April 2014 edition of Octane Magazine ran an article on Jaguar Racers in which they included a review of our Group 44 E-type. 
In 1975, Bob Tullius' Group 44 racing team won seven races, including the Road Atlanta National Finals, and took the SCCA Class B Production Car Championship.
Although the E-type had been raced in many events right from its introduction in 1961, even in lightweight form the car was not competitive in first-line events such as Le Mans against the new generation of cars from Ferrari, and later Ford and Porsche.  However, the E-type was to experience a renaissance late in its career, with the V12-engined Series 3 model.
In 1974, Mike Dale of British Leyland Motor Inc, the Jaguar importer in the USA, decided to enter the E-type in the Class B Production Car championship of the Sports Car Club of America (SCCA).  Two independent companies were chosen to prepare and race the cars, Huffaker of California for the West Coast races, and Group 44 of Virginia for the East Coast races.  Group 44 had been founded ten years before by Bob Tullius and Brian Fuerstenau, and had an impressive list of race victories, as well as ten national championships, to their credit.
The Huffaker prepared car, driven by Lee Mueller, won its first race at Seattle in August 1974, while at the same time the Group 44 car missed victory at Watkins Glen as the gearlever broke in Bob Tullius's hand while he was in the lead with three laps to go.  However, this initial setback was soon forgotten and the E-types swept all before them for the rest of the season, with Mueller scoring a total of three victories and Tullius five.
By 1975, of course, the E-type was out of production, and the stock of cars remaining in the USA had been sold off.  Therefore the E-type racing programme was concluded with the 1975 season.  Bob Tullius and Group 44 however continued their successful involvement with Jaguar, first in the XJS, and later with the specially-built XJR sports racing cars which in the 1980s contested the American IMSA races, and brought Jaguar back to Le Mans.
In May 2009 Classic Motorsports printed an article on the Group 44 E-type, under the title of Born To Perform: The Jaguar E-Type of Group 44.
This was written by Russell Tullius, son of Bob Tullius who as a youngster grew up in and around the shops of Group 44 Inc., and at race tracks such as Marlboro, Cumberland, VIR, Daytona, Watkins Glen and Road Atlanta.
"Funny thing," he says, "I didn't realize then that what my dad and his race team were doing was any different than what any other dad did.  After all, each weekend at the races, there were lots of other dads and lots of kids.  That was my world.  Obviously, in hindsight it is clear that what my dad and his race team were doing was special."  
His background meant he could write about the car and Group 44 from a completely unique perspective. Classic Motorsports reprinted the article in July 2019 and it is now available online.
Race Results
Year
Date
Race
Result
Driver
Entrant / Team
(if not himself)
1974
3 November
US Champions
Road Atlanta, Georgia
2nd
Bob Tullius
British Leyland
Quaker State
1975
13 July
SCCA National
Brainerd, Minnesota
3rd
Bob Tullius
British Leyland
Quaker State
1975
7 September
Trans-Am
Brainerd, Minnesota
16th
Bob Tullius
British Leyland
Quaker State
1975
2 November
US Champions
Road Atlanta, Georgia
1st
Bob Tullius
British Leyland
Quaker State
Chassis Number: UE1S/24250
Owner: The Jaguar Daimler Heritage Trust
Inventory Number: 073/J.31