1997 Jaguar XJ6 3.2 Sport Saloon Last AJ16 Engined X300 R300 WKV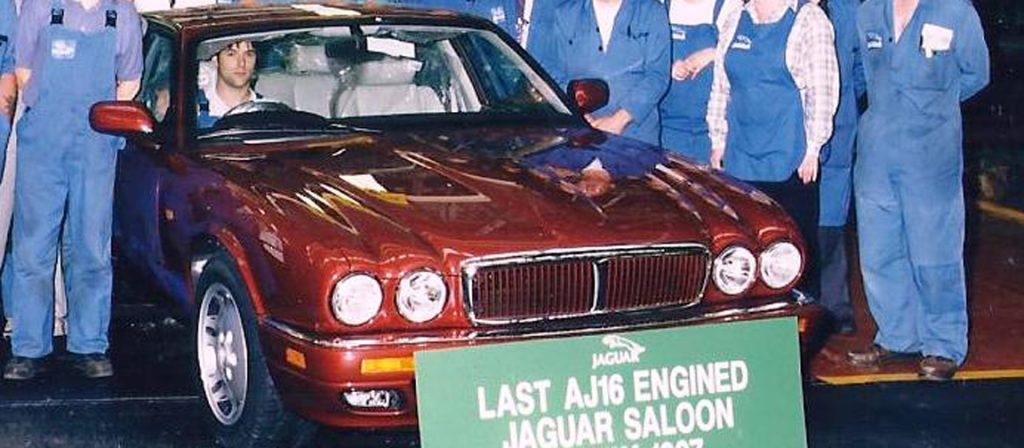 This Carnival Red XJ6 3.2 litre Sport was the very last car to be produced by Jaguar Cars with the in-line AJ16 six cylinder engine, which was then replaced by the new AJ8 V8 engine in the revised X300 XJ8.  This car was therefore also the last Jaguar- for the time being to carry the famous XJ6 name, first introduced in 1968.  It was built on 2 July 1997, and was immediately transferred to the Jaguar Daimler Heritage Trust's collection for preservation.
R300 WKV was featured in the April/May 2020 Edition of Classic Jaguar magazine.
The new series Jaguar XJ6 (X300) saloons were introduced in September of 1994 to replace the existing models of the same name (code name XJ40).  These new models represented the first new cars to be produced since the Ford take-over in 1989.  They incorporated significantly improved build technology and a degree of 'retrolutionary' styling taken from earlier Jaguar models.  The six-cylinder engine was the new AJ16, a much-modified version of the AJ6 engine used in the previous generation of Jaguars.  There was also a limited production twelve-cylinder model.
The Jaguar XJ6.model range originally included 3.2 litre and 4.0 litre versions, both of which were available as a 'basic' model, a more luxurious Sovereign version, and a Sport version. There was also a high performance XJR version featuring a supercharged version of the 4 litre engine.  Unique to the North American market was the Vanden Plas model, while in the UK and some export markets a 4-litre Daimler Six was available.  Long wheelbase versions of many models followed in 1995.
The new model range would significantly improve Jaguar's production and sales figures compared to its XJ40 predecessor.  In 1995 alone, more than 36,000 of the new range was made, and total production from 1994 to 1997 amounted to 92,038 of all X300 models.  In 1997, prices ranged from £31,625 for the basic XJ6 3.2 litre to £67,125 for a Daimler Double Six.
R300 WKV was one of the cars featured in the video montage – Jaguar XJ50 – which Jaguar Cars produced
to celebrate 50 years of the XJ in 2018, showing the evolution of the XJ Saloon.
Registration Mark: R300 WKV
Chassis Number: SAJJPAlG3BP812255
Owner: The Jaguar Daimler Heritage Trust
Inventory Number: 120/J.70
Price when new: £31,625
Price: 114 Weeks Average Wage