2003 Jaguar X-Type Supercharged V6 Prototype X400 SVO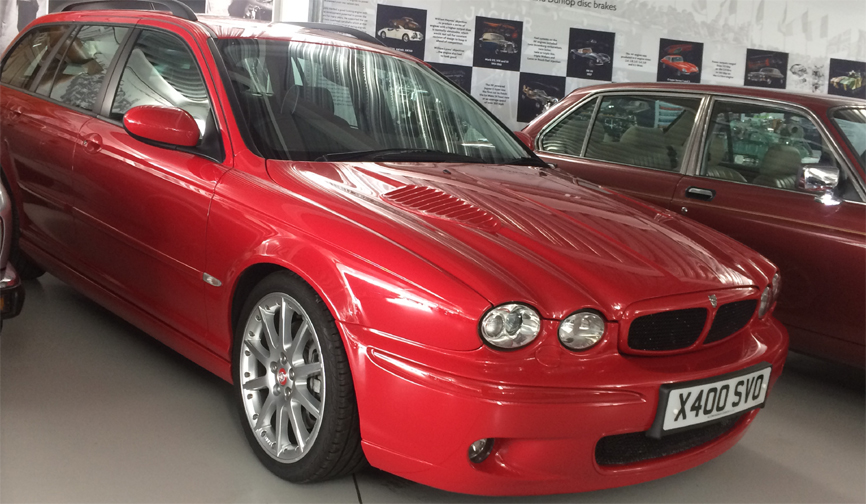 This car is unique in the catalogue of X-Types.  It is a V6 development car with a supercharged 3.0 litre, petrol engine, six-speed gearbox and all-wheel drive.  The six-speed gearbox is from Volvo, who at that time were also part of Ford's 'Premier Automotive Group'.  The car was developed as a 'Skunk' project at the Halewood plant by a group led by Paul Freeman at the request of the company chief designer Dave Mitchell.
X400 SVO has been featured in both Club and classic car magazines on a number of occasions:
They started with a standard production specification estate car. The initial challenge was to fit the supercharged V6 engine under the bonnet without changing the body structure so much that it needed to be crash tested separately.
Paul Freeman spent much time at the Design Studio in Whitley working out how to do this and they were given access to a number of supercharged engines which were stored offsite in a lockup in the Foleshill area of Coventry.  These existed as Jaguar had previously carried out a full engineering programme on X400R (R being the suffix for supercharged vehicles), which was stopped as it was felt to be more important for the Company to develop the X400 diesel engine.  They managed to assemble a complete engine from the bits in storage and install it.  The six-speed Volvo gearbox was installed to cope with the power.  A straight through exhaust was specially made to fit the car, but this proved to be far too noisy and had to have baffles installed to reduce the noise level.
After testing in Liverpool, including along Liverpool promenade, it was sent down to Coventry and driven by various people including one who was given a speeding ticket while driving the car in Leamington Spa.
It was used for development testing throughout 2004/5 and gifted to the Jaguar Daimler Heritage Trust by Jaguar Cars in 2008.  The original number plate was changed to X400 SVO which relates to the X-Type's project number 'X400'.
One of the JDHT Volunteers, Dave Stockbridge, worked on Noise, Vibration and Harshness (NVH) on the original engineering programme, with engineer Gary Furst looking after X400R.  The main work was trying to resolve a problem with the level of supercharger whine, which started out as being audible from 100 yards away.  Dave recalls "We got it down to acceptable levels by ribbing the intercooler top casting.  To pin down timing of this, I recall we were in a meeting with Powertrain NVH on X400R when the planes were flown into the World Trade Centre (9/11 – 11 September 2001).  I believe that other X400R engines went to Ford (as the base engine was the Cleveland V6).  I think the X400R Vehicle Dynamics was led by the internal Jaguar department (PAT leader Jeff Mitchell?) but the actual work was outsourced to Prodrive".  Their team included  some significant engineers. The team leader was Richard Hurdwell, who had previously developed the chassis on the TR8 rally car and his engineer was Wynne Mitchell who had worked on the Sunbeam Lotus rally car.
X-Type General
Jaguar had released details of the X-Type on 1st November 2000, and unveiled the new car in the metal to an international audience at the Geneva Motor Show in March 2001.  The X-Type was the fourth and smallest member of the expanding Jaguar family.  It was Jaguar's first entry in the compact sports saloon market and the smallest-engined Jaguar for thirty years, since the classic 2.4 litre models of the 1950s and 1960s.
The X-Type had an innovative technical specification.  It was originally fitted with a choice of two AJ-V6 engines developed from the engine already used in the S-Type.  Power was 231 bhp / PS (172 kW) for the most powerful 3 litre, giving it a top speed of 146 mph (234 km/h). 2.5 litre and 3.0 litre X-Types featured the Traction-4 full time all-wheel drive system, which offered agile handling and sure-footed road holding.  All models were available in Sport and Special Equipment versions.
The new car was built in Jaguar's totally refurbished Halewood plant, located on Merseyside in the north west of England, the result of an investment of £300 million.  As the X-Type went into full production, it contributed to a substantial increase in annual sales to over 120,000 cars.  After only two years, 100,000 X-Types had been built.  With the expanding X-Type range, Jaguar aimed to reach a new and different group of customers.
The original 2.5 litre and 3.0 litre models were followed in 2002 by an even more affordable 2.1 litre front-wheel drive model, still with a V6 engine.  During 2003, two further versions were introduced: a four-cylinder 2.0-litre Diesel derivative with Jaguar's first-ever Diesel engine, and an Estate Car which similarly was Jaguar's first production estate, launched at the Frankfurt Motor Show in September 2003.
The supercharged version of the X-Type never made it into production.
Registration Mark: X400 SVO
Chassis Number: SAJAD56L64WD78435
Owner: The Jaguar Daimler Heritage Trust
Inventory Number: 187/J.126