1976 Broadspeed XJ12 Coupé
With the re-organisation of British Leyland in 1973, for a time Jaguar Cars Limited disappeared as a company name. Jaguar became simply a part of the Leyland Cars company. No Jaguar had taken part in first-line motor sport in the UK since the E-type and the Mark II faded from the scene in the mid-1960s. In theory, it would boost the image of both Jaguar and Leyland, if a Jaguar were to make a successful comeback in racing.
All British Leyland motor sport activities were now centralised, and the company increasingly made use of contractors who took on the preparation of cars, and the management of racing teams. Ralph Broad of Broadspeed had enjoyed a successful run with Triumph Dolomites in British saloon car racing. He had ideas of his own about the possibility of developing the Jaguar V12 engine for a proper racing car, and was therefore chosen to spearhead an attempt to bring a Jaguar back into racing, running the XJ12 coupé version – XJC for short – in the European Touring Car Championship.
Development began in 1975, and the car was unveiled in March 1976.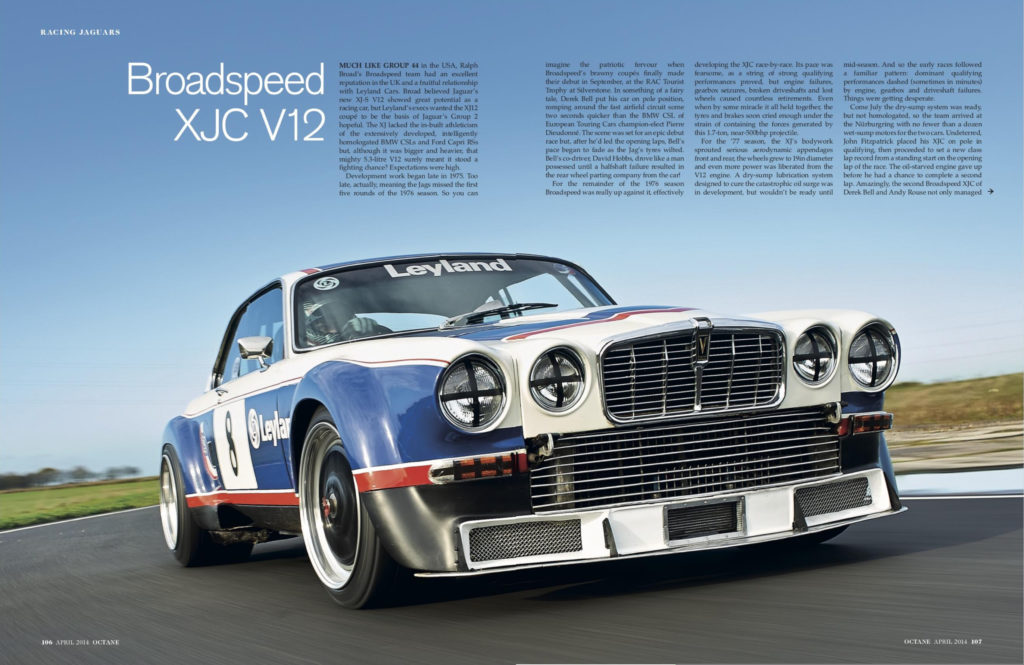 Staying within the regulations for the Touring Car Championship, the cars were substantially modified by Broad, and amongst other features, were fitted with a manual gearbox! The cars' debut came in the Tourist Trophy race at Silverstone in September 1976. Derek Bell led the race for a while, until a driveshaft failed.
This was to be the recurring theme throughout the car's brief career. Always spectacular, often fast, but usually denied the reliability – or luck – needed to stay the course, or to achieve a respectably high finish. The best result was to be a second place for Bell and Andy Rouse at the Nürburgring in 1977. Alas, it was not enough for BL to agree to continue with the project for a further season, although Ralph Broad personally never changed his opinion that with further development, the car would have been a winner.
The April 2014 edition of Octane Magazine ran an article on Jaguar Racers in which they included a review of our Broadspeed XJ12 Coupé
Chassis Number: BELJC-003
Owner: The Jaguar Daimler Heritage Trust
Inventory Number: 77/J.34