2003 Jaguar S-Type BU03 XEJ
Diesel Car Raced at Nürburgring
This car was an engineering development vehicle that was being used at Jaguar's Test Centre at the Nürburgring in Germany which had opened in 2003. The development team decided to race prepare the car and enter it in the demanding 24 hour race on the famous Nordschleife circuit in June 2004 to demonstrate its durability. A combination of atrocious weather and driver fatigue resulted in an accident after 16 hours when the car was running in 4th place in the diesel class (and the damage is still visible!). Emergency repairs were carried out trackside and the car eventually continued to finish 8th in its class and 113th overall after completing 104 laps. The car was used for promotional purposes after this and was gifted to the Jaguar Daimler Heritage Trust in 2006.
The X200 model, named the S-Type after the equivalent Jaguar model of the 1960s was launched at the 1998 British International Motor Show at the National Exhibition Centre, Birmingham. It was one of the most eagerly awaited new Jaguar models for many years and it gave Jaguar a second saloon model in the range, taking the company back to its roots from thirty years earlier as a maker of compact luxury sports saloons.
While the S-Type was jointly developed alongside a sister Lincoln product from the parent Ford Group, the designers and engineers behind the car were determined to make it a true Jaguar. This was evident in the distinctive style, developed under the guidance of the late Geoff Lawson, Jaguar's Design Director, whose last work the S-Type was. The car featured several instantly recognisable Jaguar styling signatures, evoking the spirit of Jaguars of the past but in a modern way.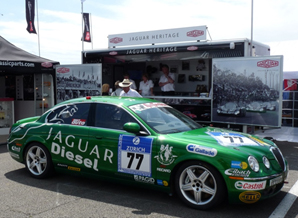 The chassis was engineered with double wishbone front and rear suspension, to provide the unique Jaguar driving experience, offering a remarkable combination of agile handling with supple ride and luxurious comfort worthy of the marque. The engines at launch were the well-proven Jaguar AJ-V8 of 4 litres and a new AJ-V6 engine of 3 litres, and the S-TYPE was the first Jaguar to be built at the company's Castle Bromwich factory in Birmingham.
The S-Type underwent a freshening programme in 2002 with a revised interior, new engines and the addition of an 'R' performance model fitted with a supercharged 4.2 litre AJ-V8 engine. A further freshening followed in 2004 with an updated exterior design and an all new V6 diesel engine of 2.7 litres – Jaguar's first ever diesel. Nearly 300,000 S-TYPEs were built from 1999 until 2007.
Registration Mark: BU03 XEJ
Chassis Number: SAJAB02W057X01329
Owner: The Jaguar Daimler Heritage Trust
Inventory Number: 167/J.107