2017 Jaguar E-PACE VE66 LLF
Barrel Roll Launch Car
The Jaguar E-PACE was launched with a bang – literally. Following the success of performing a 'loop the loop' at the launch of the Jaguar F-PACE in 2015, the Jaguar team came up with something different for the launch of the next Jaguar model – the E-PACE. This stunt took inspiration from the famous barrel roll that takes place in the James Bond film The Man With The Golden Gun.
On 13 July 2017 at the Excel Centre in London, a Jaguar E-PACE was launched off a metal ramp on one side, with a softer dirt bank on the other side cushioning the car's landing and set an official GUINNESS WORLD RECORDS™ title.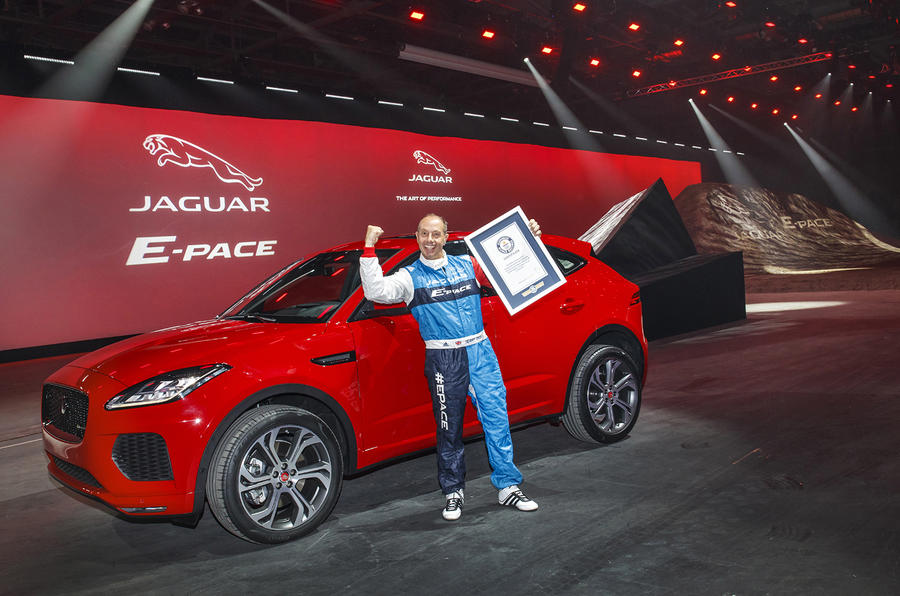 The compact performance SUV leapt into the record books with a 15.3 metre-long jump complete with a 270 degree corkscrew-like 'barrel roll'. Both ramps were computer designed, and the precise launch speed calculated and months of testing followed in order to ensure both the car and stunt driver Terry Grant survived intact.
This is the car used for the Barrel Roll. It started life as a Prototype E-PACE, very close to production specification with some modifications for the stunt. To reduce weight the standard seats and the whole interior was removed. All the glass windows were replaced with Perspex, the window and most of the door mechanisms were removed and the door cards replaced with carbon fibre panels. A strut brace was fitted in the engine compartment connecting the two shock towers and a full roll cage was welded into the car, to ensure it retained its structural integrity even if it were to land on its roof.
The engine, transmission, brakes and suspension were kept as standard, although a 'fifth' wheel was installed between the rear wheels, connected to an adjustable shock absorber to help cope with the loads generated on landing. The 'fifth' wheel and shock absorber did their job at the rear of the car which remained mostly intact.
The front of the car did suffer some minor damage: a few pieces of exterior trim flew off and the front undertray was dented. Both the right and left engine mountings and the gearbox stabiliser snapped and have been replaced.
These broken parts are mounted to a display board in the passenger side of the car, with the broken sections painted red.
The time-lapse montage of the E-pace in mid-air also forms the background image to the Ingenium Engine display wall section in the Collection Centre.
Registration Mark: VE66 LLF
Owner: The Jaguar Daimler Heritage Trust
Inventory Number: 208/J.145