2001 Jaguar R-Coupé Concept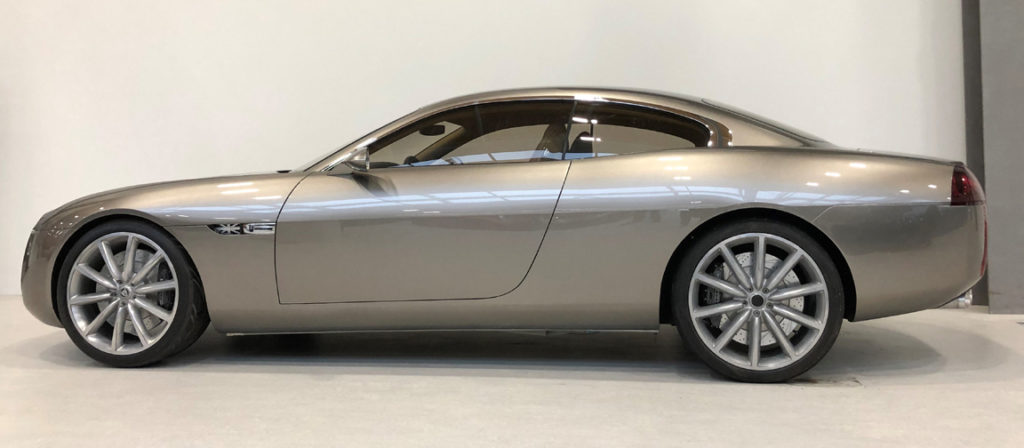 This stunning Concept car was unveiled at the Frankfurt Motor Show in September 2001.  Under the leadership of Jaguar's Design Director Ian Callum and the Advanced Design Studio Head, Julian Thomson, the exterior design was the work of Matt Beaven, while the interior was done by Mark Phillips.  The car was designed and constructed within little more than six months.  As a full four-seater coupé, it was a type of car that Jaguar had not produced for twenty-five years, but it followed the tradition of the classic XJ-C coupé of the 1970s.
However, the R-Coupé was not intended for production, although it may be a pointer to the future direction for Jaguar design.  While the car incorporated S-TYPE chassis parts, it was not fitted with an engine.  The wheelbase of 2,909 mm and the impressive 21 inch ten-spoke alloy wheels gave the car massive presence.  High-tech features included pivoting Xenon headlights, and LEDs were used for fog lights and brake lights.  Most concept cars are painted in a shade of silver as this is both a very neutral colour and it shows off all the 'light-lines'  to their best effect.  This R-Coupé was originally finished in Pewter, the car was subsequently repainted Metallic Green.
Although the design still incorporated many traditional Jaguar cues, notably the shape of the grille and the four-headlamp layout, the R-Coupé borrowed less heavily from Jaguar's design heritage than other recent production cars.  However, the car was true to the Jaguar tradition for elegance, with its clean uncluttered shape.  Many body details were modelled in silver-plated metal, even silver, including the badges.
The interior showed a similar approach, using traditional materials such as wood and leather but in a fresh and modern style.  There were four individual seats upholstered in tan Connolly leather.  The dash was finished in anodised aluminium and leather, and had simple but elegant instruments.  The handbrake was electric, and gear changes were made using paddles mounted on the steering wheel, in the manner of a Formula 1 racing car.  A centre console stretching the length of the interior incorporated, whimsically, a removable whisky flask.
In September 2019 Jaguar Land Rover their new Design Studio in their brand new building on their Gaydon site.  JLR requested a number of concept cars from the JDHT Collection to 'dress' the studio and show off examples of some of their past designs.  These included the R-D6, the CXF Concept, our XF SV8 and the R-Coupé and the company decided that the R-Coupé would look better as it was first displayed – they re-sprayed it back to its original colour of Pewter.
It always looked good but now it is positively stunning!
Chassis Number: X1
Owner: The Jaguar Daimler Heritage Trust
Inventory Number: 132/J.79