XJR-5 – 1984 Le Mans 24 Hours, Michael Turner, 1984
The Artwork
This is one of six paintings by artist Michael Turner in the Jaguar Daimler Heritage Trust's Collection, and depicts the XJR-5, car #44, of Bob Tullius' Group 44 racing team, at the Le Mans 24 Hours race in 1984, leading its team car #40 past the exit to the pit lane. Group 44 brought over its two Jaguar, 6.0 litre V12 powered XJR-5's from America for the Le Mans race.
Appropriately numbered car #44, it was driven by  Bob Tullius, Brian Redman and Doc Bundy and car #40 was driven by Tony Adamowicz, John Watson and Claude Ballot-Léna. Although neither of the XJR-5s completed the race, car #44 retired on lap 291 with gearbox problems and car #40 went out on lap 212 after an accident, this was an important occasion for Jaguar as it was the first time they made an official appearance at Le Mans since 1959.
Both cars were also entered for the 1985 Le Mans race with car #44 completing 344 laps and 4,403.162 km (2,736 miles) taking a respectable 13th place overall and 1st in GTP class, the first time that a Jaguar had finished at Le Mans since 1963. Car #40 retired after 151 laps when a CV joint failed.
The painting is currently on public display in the Collections Centre at the British Motor Museum at Gaydon.
The Artist
Michael Turner was born in Harrow, Middlesex, in 1934. Raised in the suburbs of London during the Second World War, he was inspired by the exploits of the R.A.F. and developed an early talent for aircraft recognition, drawing aeroplanes in his school exercise books to the chagrin of his teachers. This enthusiasm for aviation found a parallel passion in the thrill of motor racing after a holiday visit to the Isle of Man in 1947, where he chanced to see the first post war revival of the British Empire Trophy Race. From that moment, with the indulgence of his parents until he reached driving age, he attended as many motor sport events as possible, including the first ever meetings at Silverstone and Goodwood and the Jersey Road Races.
After completing his formal education, he spent a year at Art College followed by two years National Service with the Royal Electrical and Mechanical Engineers. Three years in advertising studios in London provided valuable experience and in 1957 he went freelance. With a strong belief that there is no substitute for first hand involvement in order to portray such demanding subjects with authority and feeling, he travelled to the world's major race tracks to satisfy his need for authenticity, and he continues to visit several Grand Prix each year.
His interest in aircraft led him to become a founder member of The Guild of Aviation Artists, of which he has twice been Chairman and is now President, and an Honorary Fellow of the Guild of Motoring Artists. His clients include many racing drivers, teams, sponsors, pilots, motor and aircraft manufacturers, R.A.F. and Army messes, museums and private collections worldwide. He held one man exhibitions in London, New York, Australia and the U.S.A., and participated in specialist shows in the U.K. and Europe. He had six books of his paintings published covering aircraft of the Royal Air Force and Luftwaffe, Formula One Motor Racing, Aviation Art, Monaco Grand Prix and Motor Sport Art.
XJR-5
Jaguar Daimler Heritage Trust has XJR-5 chassis #9, a sister car to the one in the painting, in its Collection, which is regularly on public display at the British Motor Museum at Gaydon. It competed successfully throughout the 1984 and 1985 seasons gaining: five 3rd places, two 2nd places and winning the Road Atlanta 500 km race in April 1985.
It is maintained by the JDHT technicians at Gaydon and is now only used for 'demonstration' purposes at Historic Races and club events, but never run again at full race pace.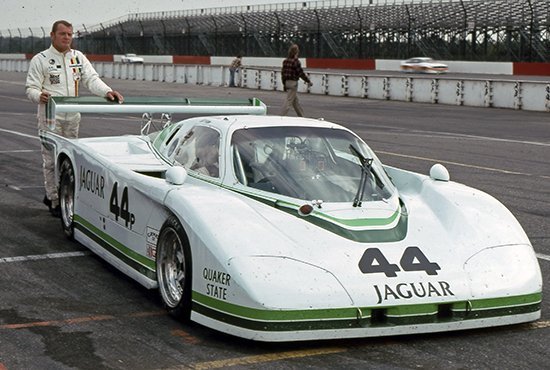 Bob Tullius' Group 44 Team
Jaguar's return to long-distance sports car racing began in the USA. In 1974 and 1975, Bob Tullius of the Group 44 team had successfully run an E-type in Sports Car Club of America (SCCA) production car races, with sponsorship from British Leyland Motor Inc, the then American Jaguar importers which eventually became Jaguar Cars Inc. At Atlanta in 1975, Tullius clinched the national Group B championship.
However, with E-type out of production, Tullius switched to the new XJ-S which won him the 1977 and 1978 SCCA Trans-Am championships. While still racing the XJ-S in 1981, Tullius hatched a plan to develop a mid-engined endurance racer round the proven Jaguar V12 engine, for the IMSA Camel GTP series. The car was designed by Lee Dykstra, previously associated with Ford racing.
In its debut race at Elkhart Lake on 22 August 1982, the new car, driven by Bob Tullius and Bill Adam, came third completing 123 laps but was initially plagued by minor technical problems or accidents. The first win for Tullius and co-driver Adam came at Road Atlanta, Georgia on 10 April 1983 with the XJR-5 finishing only 18 seconds ahead of Whittington and Donaldson in a March 83G-Chevrolet.
The 1983 season was to prove the best for the Group 44 car in American racing with a further win for Tullius and Adam at Lime Rock in May. But Tullius had already set his sights on a larger target: The world championship for sports car endurance racing, or to be more precise, the 24-hour race at Le Mans in France. Bearing in mind Jaguar's past record at Le Mans, with five wins from 1951 to 1957, there was a great deal of emotion attached to a return to this race, especially in 1984, the year that Jaguar achieved independence from the BL company.
Click the button for more information on the Group 44 XJR-5: