In 2022 Jaguar Cars launched a limited edition version of their successful F-Pace SUV to commemorate Jaguar's 1988 win at Le Mans. This was the F-Pace SVR Edition 1988. 
The spirit of the XJR-9's racing livery was evoked in Edition 1988's deep Midnight Amethyst paintwork with Sunset Gold detailing and 22″ Forged Champagne Gold alloy wheels.
F-PACE SVR Edition 1988 exists as a run of just 394 – a detail highlighted to owners on the 'SV Bespoke' dashboard end caps. The number of 394 is important as this is the number of laps that XJR-9 Car #2 completed that weekend in June 1988 when it won the 24 hour race at Le Mans.
Car Magazine took one of these F-Paces for a road test to Anglesey where it met the 1988 race winning XJR-9 on the Circuit and the article is reprinted here in its entirety.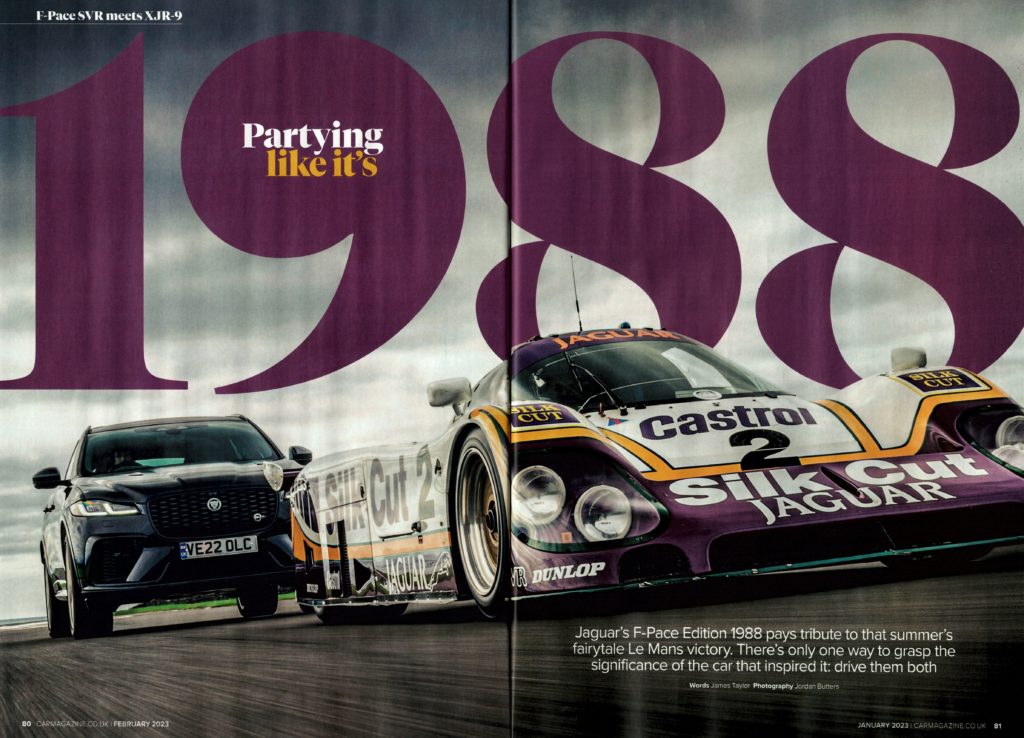 Jaguar's F-Pace Edition 1988 pays tribute to that summer's fairytale Le Mans victory. There's only one way to grasp the significance of the car that inspired it: drive them both.
Photography:  Jordan Butters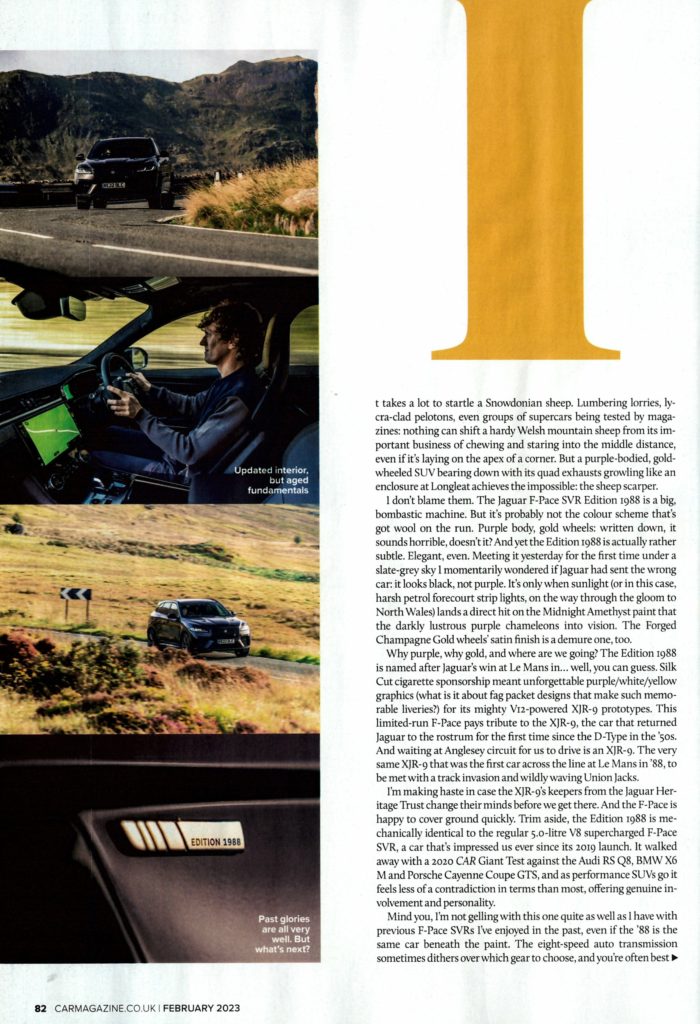 It takes a lot to startle a Snowdonian sheep. Lumbering lorries, lycra-clad pelotons, even groups of supercars being tested by magazines: nothing can shift a hardy Welsh mountain sheep from its important business of chewing and staring into the middle distance, even if it's laying on the apex of a corner. 
But a purple-bodied, gold-wheeled SUV bearing down with its quad exhausts growling like an enclosure at Longleat achieves the impossible: the sheep scarper.
I don't blame them. The Jaguar F-Pace SVR Edition 1988 is a big, bombastic machine. But it's probably not the colour scheme that's got wool on the run. Purple body, gold wheels: written down, it sounds horrible, doesn't it? And yet the Edition 1988 is actually rather subtle. Elegant, even. 
Meeting it yesterday for the first time under a slate-grey sky I momentarily wondered if Jaguar had sent the wrong car: it looks black, not purple. It's only when sunlight (or in this case, harsh petrol forecourt strip lights, on the way through the gloom to North Wales) lands a direct hit on the Midnight Amethyst paint that the darkly lustrous purple chameleons into vision. The Forged Champagne Gold wheels' satin finish is a demure one, too. 
Why purple, why gold, and where are we going? The Edition 1988 is named after Jaguar's win at Le Mans in… well, you can guess. Silk Cut cigarette sponsorship meant unforgettable purple/white/yellow graphics (what is it about fag packet designs that make such memorable liveries?) for its mighty V12-powered XJR-9 prototypes. 
This limited-run F-Pace pays tribute to the XJR-9, the car that returned Jaguar to the rostrum for the first time since the D-Type in the '50s.
And waiting at Anglesey circuit for us to drive is an XJR-9. The very same XJR-9 that was the first car across the line at Le Mans in '88, to be met with a track invasion and wildly waving Union Jacks. I'm making haste in case the X]R-9's keepers from the Jaguar Heritage Trust change their minds before we get there. And the F-Pace is happy to cover ground quickly. Trim aside, the Edition 1988 is mechanically identical to the regular 5.0-litre V8 supercharged F-Pace SVR, a car that's impressed us ever since its 2019 launch. 
It walked away with a 2020 CAR Giant Test against the Audi RS Q8, BMW X6 M and Porsche Cayenne Coupe GTS, and as performance SUVs go it feels less of a contradiction in terms than most, offering genuine involvement and personality.
Mind you, I'm not gelling with this one quite as well as I have with previous F-Pace SVRs I've enjoyed in the past, even if the '88 is the same car beneath the paint. The eight-speed auto transmission sometimes dithers over which gear to choose, and you're often best off using the paddles behind the wheel to be sure of the right ratio at the right time. The steering is beautifully linear in response – something that's a blessing and curse, as its weight doesn't shift in your hands through the different stages of a corner as you might expect, and so feels a little synthetic and remote. It's also a fast responder just off-centre, so when trying to thread the F-Pace with fingertips through sweeping corners it's a little over-sensitive for my liking.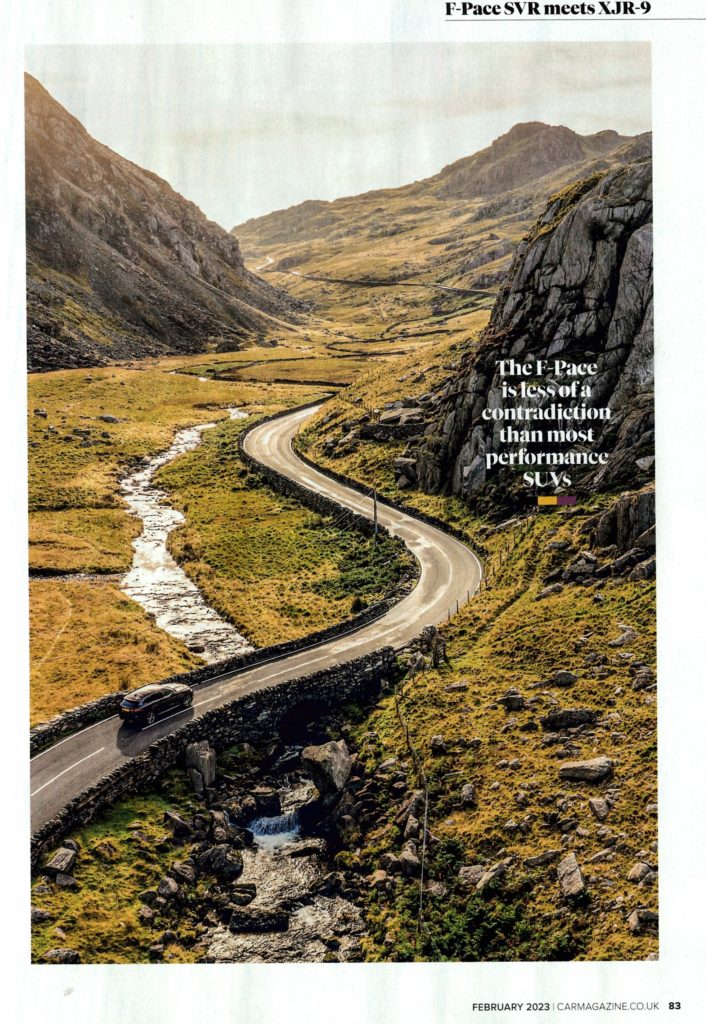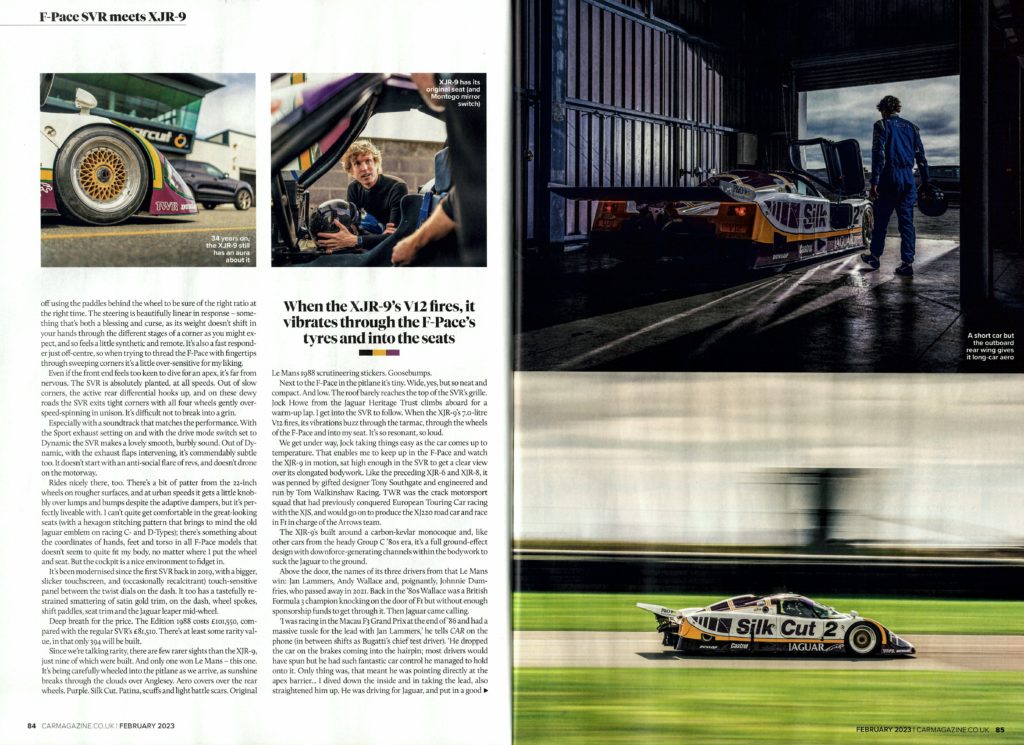 Even if the front end feels too keen to dive for an apex, it's far from nervous. The SVR is absolutely planted, at all speeds. Out of slow corners, the active rear differential hooks up, and on these dewy roads the SVR exits tight corners with all four wheels gently overspeed-spinning in unison. It's difficult not to break into a grin. Especially with a soundtrack that matches the performance. With the Sport exhaust setting on and with the drive mode switch set to Dynamic the SVR makes a lovely smooth, burbly sound. Out of Dynamic, with the exhaust flaps intervening, it's commendably subtle too. It doesn't start with an anti-social flare of revs, and doesn't drone on the motorway.
Rides nicely there, too. There's a bit of patter from the 22-inch wheels on rougher surfaces, and at urban speeds it gets a little knobbly over lumps and bumps despite the adaptive dampers, but it's perfectly liveable with. I can't quite get comfortable in the great-looking seats (with a hexagon stitching pattern that brings to mind the old Jaguar emblem on racing C- and D-Types); there's something about the coordinates of hands, feet and torso in all F-Pace models that doesn't seem to quite fit my body, no matter where I put the wheel and seat. But the cockpit is a nice environment to fidget in.
It's been modernised since the first SVR back in 2019, with a bigger, slicker touchscreen, and (occasionally recalcitrant) touch-sensitive panel between the twist dials on the dash. It too has a tastefully restrained smattering of satin gold trim, on the dash, wheel spokes, shift paddles, seat trim and the Jaguar leaper mid-wheel.
Deep breath for the price. The Edition 1988 costs £101,550 compared with the regular SVR's £81,510. There's at least some rarity value, in that only 394 will be built.
Since we're talking rarity, there are few rarer sights than the XJR-9, just nine of which were built. And only one won Le Mans – this one. It's being carefully wheeled into the pitlane as we arrive, as sunshine breaks through the clouds over Anglesey. Aero covers over the rear wheels. Purple. Silk Cut. Patina, scuffs and light battle scars. Original Le Mans 1988 Scrutineering stickers. Goosebumps.
Next to the F-Pace in the pitlane it's tiny. Wide, yes, but so neat and compact. And low. The roof barely reaches the top of the SVR's grille. Jock Howe from the Jaguar Heritage Trust climbs aboard for a warm-up lap. I get into the SVR to follow. When the XJR-9's 7 .0-litre V12 fires, its vibrations buzz through the tarmac, through the wheels of the F-Pace and into my seat. It's so resonant, so loud.
We get under way, Jock taking things easy as the car comes up to temperature. That enables me to keep up in the F-Pace and watch the XJR-9 in motion, sat high enough in the SVR to get a clear view over its elongated bodywork. Like the preceding XJR-6 and XJR-8, it was penned by gifted designer Tony Southgate and engineered and run by Tom Walkinshaw Racing. 
TWR was the crack motorsport squad that had previously conquered European Touring Car racing with the XJS, and would go on to produce the XJ220 road car and race in F1 in charge of the Arrows team.
The XJR-9's built around a carbon-kevlar monocoque and, like other cars from the heady Group C '80s era, it's a full ground-effect design with downforce-generating channels within the bodywork to suck the Jaguar to the ground.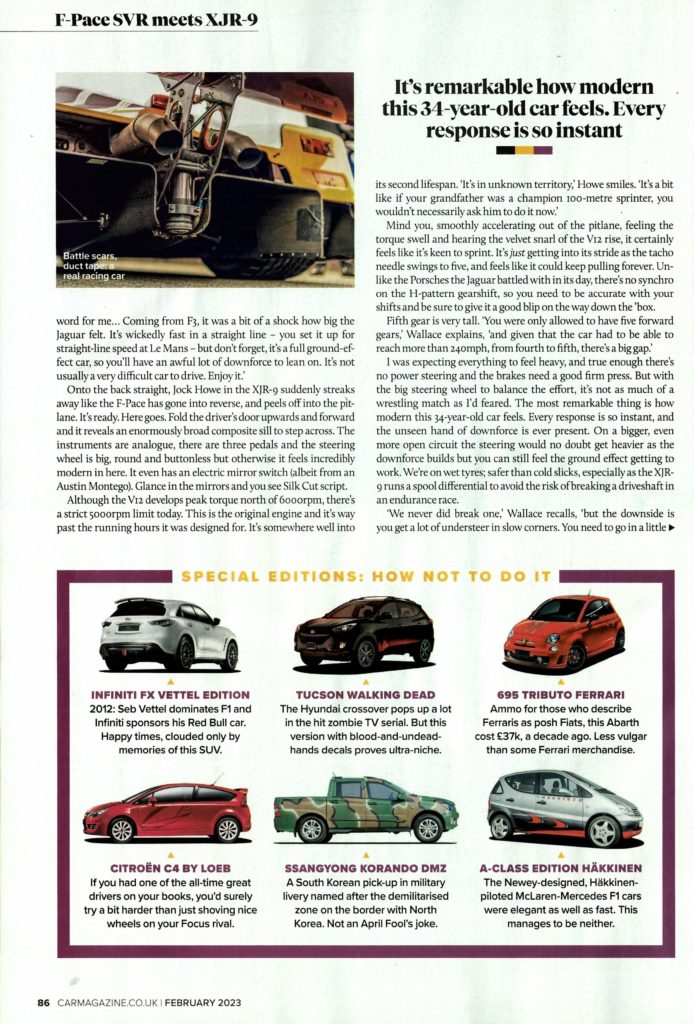 Above the door, the names of its three drivers from that Le Mans win: Jan Lammers, Andy Wallace and, poignantly, Johnnie Dumfries, who passed away in 2021. Back in the '80s Wallace was a British Formula 3 champion knocking on the door of F1 but without enough sponsorship funds to get through it. Then Jaguar came calling. 
'I was racing in the Macau F3 Grand Prix at the end of '86 and had a massive tussle for the lead with Jan Lammers,' he tells CAR on the phone (in between shifts as Bugatti's chief test driver). 'He dropped the car on the brakes coming into the hairpin; most drivers would have spun but he had such fantastic car control he managed to hold onto it. Only thing was, that meant he was pointing directly at the apex barrier… I dived down the inside and in taking the lead, also straightened him up and put in a good word for me… Coming from F3, it was a bit of a shock how big the Jaguar felt. It's wickedly fast in a straight line – you set it up for straight-line speed at Le Mans – but don't forget, it's a full ground-effect car, so you'll have an awful lot of downforce to lean on. It's not usually a very difficult car to drive. Enjoy it.'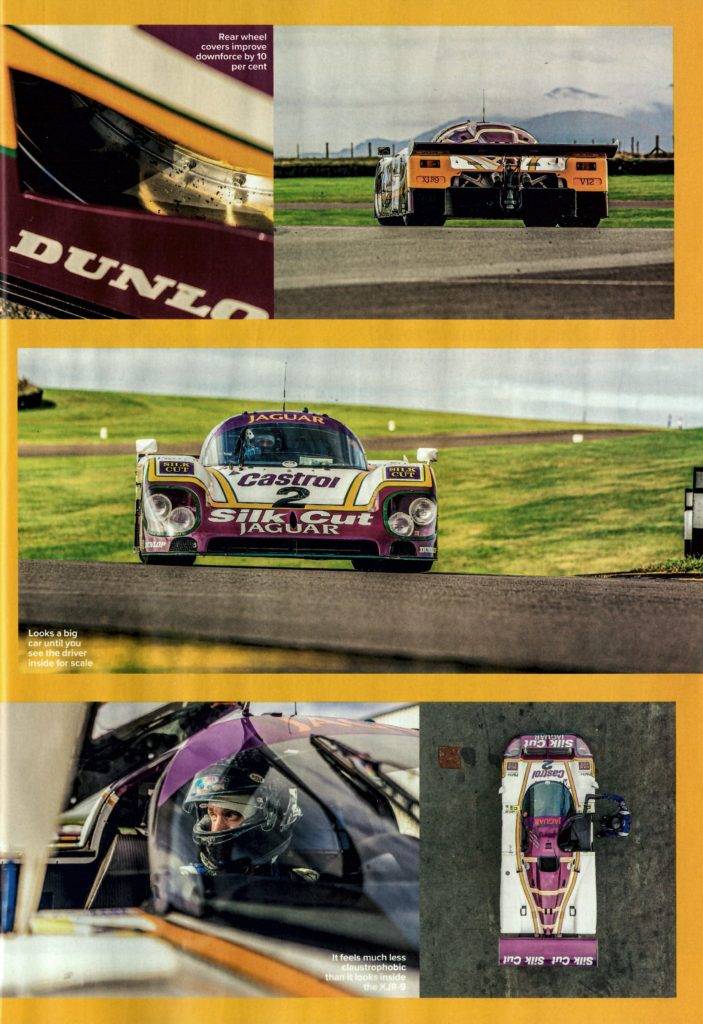 Onto the back straight, Jock Howe in the XJR-9 suddenly streaks away like the F-Pace has gone into reverse, and peels off into the pitlane. It's ready. Here goes. Fold the driver's door upwards and forward and it reveals an enormously broad composite sill to step across. The instruments are analogue, there are three pedals and the steering wheel is big, round and buttonless but otherwise it feels incredibly modern in here. It even has an electric mirror switch (albeit from an Austin Montego). Glance in the mirrors and you see Silk Cut script. 
Although the V12 develops peak torque north of 6000 rpm, there's a strict 5000 rpm limit today. This is the original engine and it's way past the running hours it was designed for. It's somewhat well into its second lifespan. 'It's in unknown territory,'  Howe smiles. 'It's a bit like if your grandfather was a champion 100-metre sprinter, you wouldn't necessarily ask him to do it now.'
Mind you, smoothly accelerating out of the pitlane, feeling the torque swell and hearing the velvet snarl of the V12 rise, it certainly feels like it's keen to sprint. It's just getting into its stride as the tacho needle swings to five, and feels like it could keep pulling forever. 
Unlike the Porsches the Jaguar battled with in its day, there's no synchro on the H-pattern gearshift, so you need to be accurate with your shifts and be sure to give it a good blip on the way down the 'box.
Fifth gear is very tall. 'You were only allowed to have five forward gears,' Wallace explains, 'and given that the car had to be able to reach more than 240 mph, from fourth to fifth, there's a big gap.'
I was expecting everything to feel heavy, and true enough there's no power steering and the brakes need a good firm press. But with the big steering wheel to balance the effort, it's not as much of a wrestling match as I'd feared. The most remarkable thing is how modern this 34-year-old car feels. Every response is so instant, and the unseen hand of downforce is ever present. On a bigger, even more open circuit the steering would no doubt get heavier as the downforce builds but you can still feel the ground effect getting to work. We're on wet tyres; safer than cold slicks, especially as the XJR-9 runs a spool differential to avoid the risk of breaking a driveshaft in an endurance race.
'We never did break one,' Wallace recalls, 'but the downside is you get a lot of understeer in slow corners. You need to go in a little slower than you would normally, get the car rotated, then you can get on the power.'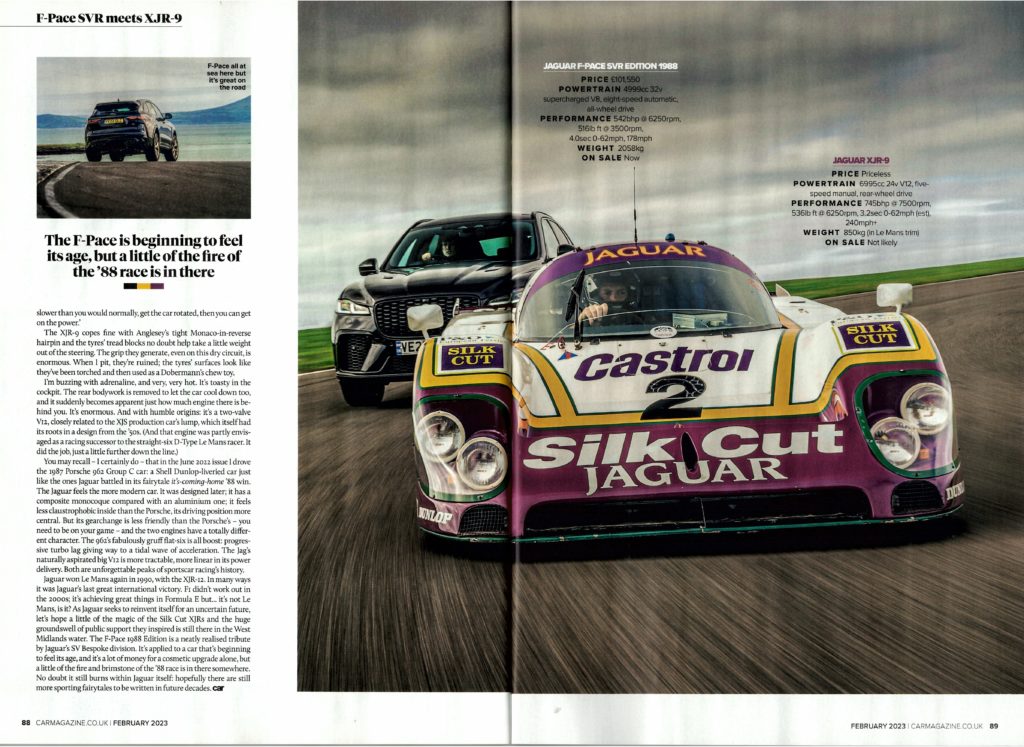 The XJR-9 copes fine with Anglesey's tight Monaco-in-reverse hairpin and the tyres' tread blocks no doubt help take a little weight out of the steering. The grip they generate, even on this dry circuit, is enormous. When I pit, they're ruined; the tyres' surfaces look like they've been torched and then used as a Dobermann's chew toy.
I'm buzzing with adrenaline, and very, very hot. It's toasty in the cockpit. The rear bodywork is removed to let the car cool down too, and it suddenly becomes apparent just how much engine there is behind you. It's enormous. And with humble origins: it's a two-valve V12, closely related to the XJS production car's lump, which itself had its roots in a design from the '50s. (And that engine was partly envisaged as a racing successor to the straight-six D-Type Le Mans racer. It did the job, just a little further down the line.)
You may recall – I certainly do – that in the June 2022 issue I drove the 1987 Porsche 962 Group C car: a Shell Dunlop-liveried car just like the ones Jaguar battled in its fairytale it's-coming-home '88 win.  
The Jaguar feels the more modern car. It was designed later; it has a composite monocoque compared with an aluminium one; it feels less claustrophobic inside than the Porsche, its driving position more central. But its gearchange is less friendly than the Porsche's – you need to be on your game – and the two engines have a totally different character. The 962's fabulously gruff flat-six is all boost: progressive turbo lag giving way to a tidal wave of acceleration. The Jag's naturally aspirated big V12 is more tractable, more linear in its power delivery. Both are unforgettable peaks of sportscar racing's history.
JAGUAR F-PACE SVR EDITION 1988
PRICE £101.550
POWERTRAIN 4999 cc 32V supercharged V8, eight-speed automatic, all-wheel drive
PERFORMANCE 542 bhp @ 6250 rpm, 516 lb ft @ 3500 rpm, 4.0 sec 0-62 mph, 178 mph
WEIGHT 2058 kg
ON SALE Now
JAGUAR XR-9 Le MANS WINNER 1988
PRICE Priceless
POWERTRAIN 6995 cc 24V V12, five-speed manual, rear-wheel drive
PERFORMANCE 745 bhp @ 7500 rpm, 536 lb ft @ 6250 rpm. 3.2 sec 0-62 mph (est), 240 mph+
WEIGHT 850 kg (in Le Mans trim)
ON SALE Not likely
Jaguar won Le Mans again in 1990, with the XJR-12. In many ways it was Jaguar's last great international victory. F1 didn't work out in the 2000s; it's achieving great things in Formula E but… it's not Le Mans, is it? As Jaguar seeks to reinvent itself for an uncertain future, let's hope a little of the magic of the Silk Cut XJRs and the huge groundswell of public support they inspired is still there in the West Midlands water. The F-Pace 1988 Edition is a neatly realised tribute by Jaguar's SV Bespoke division. It's applied to a car that's beginning to feel its age, and it's a lot of money for a cosmetic upgrade alone, but a little of the fire and brimstone of the '88 race is in there somewhere. No doubt it still burns within Jaguar itself: hopefully there are still more sporting fairytales to be written in future decades.