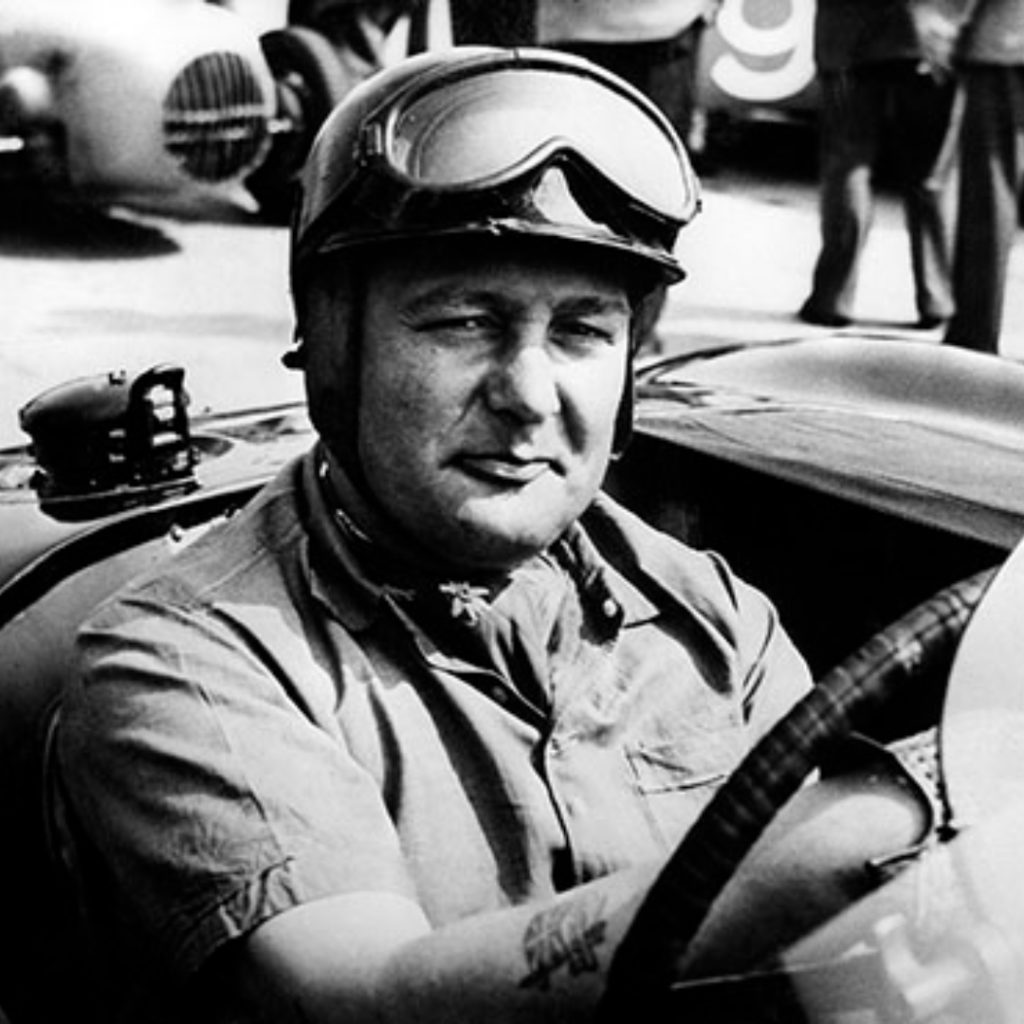 Duncan Hamilton Exhibition
This exhibition has been curated by Lavinia Bentley as part of her End Point Assessment to complete the Library, Information and Archive Services Assistant Apprenticeship (Level 3). The aim of the project is to make the archive material we hold accessible to as wide an audience as possible.
The inspiration behind this exhibition is the loan from the Hamilton family of archive material belonging to the late Duncan Hamilton.
Duncan Hamilton is still remembered as one of motor racing's most colourful characters and one of Jaguar's ablest works drivers. His enthusiastic style of racing endeared him to the public. The worse the conditions, the better his performance.
This exhibition highlights Hamilton's irrepressible enthusiasm, legendary sense of humour, his bravery and skill both as a racing driver and during his service with the Royal Navy Fleet Air Arm. It shows how this translated into success along with the engineering and design developments that took place at Jaguar during his racing career.
This year marks the 70th Anniversary of his 1953 Le Mans win for Jaguar in a Works prepared C- type, "Britain's greatest motor-racing triumph of all time" Daily Telegraph.
In 1953, Hamilton and co-driver Tony Rolt raced home to victory at Le Mans in a Jaguar C-type at an average speed of 105.78 mph: the first time the race had been won with average speed of over 100 mph. Jaguar's victory using the newly developed Disc Brake was overwhelming taking 1st, 2nd, 4th and 9th places.
The following year, after more than 2,500 miles hard racing in torrential rain, Hamilton and Rolt came second in the 1954 Le Mans 24 hour race by just 90 seconds.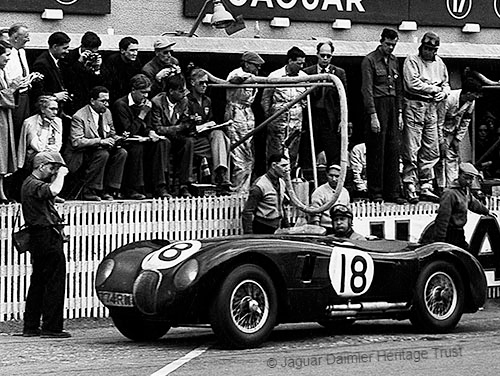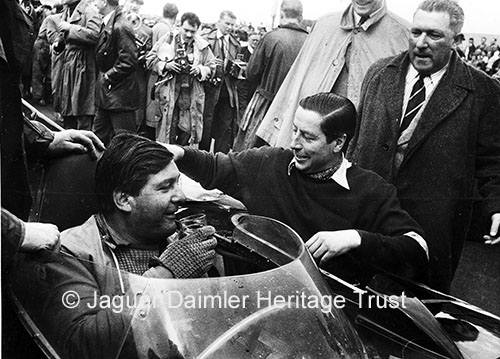 In 1956 during the Reims 12-hours race Hamilton was given instructions by team manager 'Lofty' England to ease off the revs to conserve the engine. Hamilton was running second and there was no need to overtake his team-mate, Ivor Bueb, running first, who still had to pit, so Hamilton would win anyway. However he could not resist speeding up and passing Bueb to set a new lap record and win. At the end of the race he told England that it wouldn't happen again and England said that was correct and sacked him on the spot for disobeying team orders.
He enjoyed close friendships with other racing drivers, among them, Peter Collins, Mike Hawthorn and Tony Rolt. Racing conditions at the time and a post-war, "derring do" attitude resulted in many fatalities and Hamilton lost a number of friends.
On retiring from racing, Hamilton ran a successful car dealership, continued by his son Adrian, which is still in existence today. He eventually settled in Devon with his wife Angela.  
From 1951 to 1956 he had driven for Jaguar Cars Ltd thirteen times and from 1951 to his retirement in 1958 he drove a variety of Jaguars, from XK120s to D-types, in a total of seventy-five races.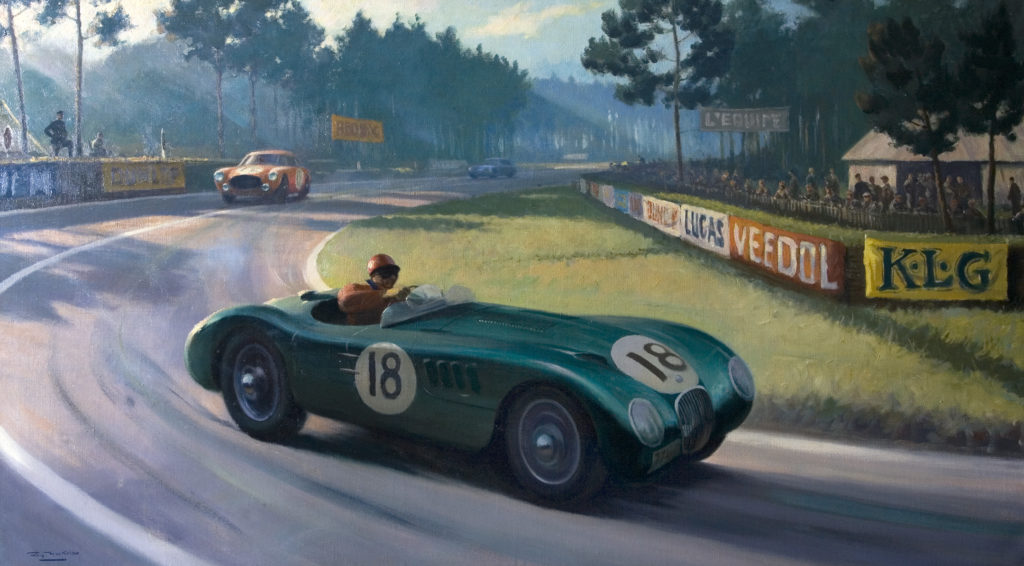 In our Artwork Collection we have a painting by artist Roy Anthony Nockolds which depicts the 1953 Le Mans winning, 3.4 litre XK engine powered, C-type car # 18, being driven by Duncan Hamilton wearing his famous red racing helmet.
It is currently on public display in the Collections Centre at the British Motor Museum at Gaydon.
Click the button for more information on this painting:
Exhibition Cabinet Displays
Leather Travelling Box lined with the "Evening Standard" newspaper, dated 22nd July 1958. Hamilton kept a Nylon stocking in the lid of the helmet box to clean his visor lens
Racing Helmet and Goggles
Stringback Racing Glove and Le Mans Pilote (Driver) Armband
"Champion Year, My Battle for the Drivers World Title" book by Mike Hawthorn, signed "To Duncan from Michael's Mother". March 1959
"Touch Wood! Duncan Hamilton, Autobiography of the Le Mans Winner" book, by . Duncan Hamilton. 1992
Royal Air Force Pilot's Flying Log Book completed by J. Duncan Hamilton during his WWII Service in East Africa. 1944 – 1950
Vº (5th) Gran Premio Dell'Autodroma Lotteria di Monza (Monza Grand Prix) 1952, Glass Plaque
Le Mans Trophy 1953 (replica). Inscribed 14.05.1953. J. Duncan Hamilton, co-driver with A.P.R. Rolt in Jaguar Car, Winner of "The Motor Trophy"
"Leaper" presented to J. Duncan Hamilton by Jaguar of Coventry on the 25th Anniversary of his Victory at Le Mans. 1953
The Sir Malcolm Campbell Memorial Trophy awarded to J.D. Hamilton, 1953
ACP (Automobile Club of Portugal), V Circuito international Do Porto, (Portuguese Grand Prix) 26-27 June 1954. Badge
Kungl Automobilklubben Sveriges (Swedish Royal Automobile Club) Grand Prix 1956.  Medal
Ville De Reims, 1957 Duncan Hamilton. Medal
Automobile Club De L'Ouest, 24 Heures Du Mans, Pilote (Driver) 1958. Medal
Jubilaumszielfahrt Nürburgring 1927-1952 Jahre (Nürburgring 25th Anniversary), Badge
Automobile Club De L'Ouest 24 Heures Du Mans, 1923-1973. Medal
Irish Motor Racing Club Limited. Silver Medal
A.G.A.C.I. Association Francais Des Courers En Automobile (French Racing Drivers Club) Badge
South Coast Flying Club Badge
B.A.R.C. (British Automobile Racing Club) Brooklands Badge
B.R.D.C. (British Racing Drivers Club) Trophy presented to Duncan Hamilton
Club International des Anciens Pilotes de Grand Prix (French Historic Racing Club) Badge
Jaguar Drivers' Club Badge
Sketch Depiction "When dreams come true, when the Hamilton Austin was too fast for the cops" (artist unknown) dated 1938
"Autosport", 19th June 1953 edition, the front cover features Duncan Hamilton and Tony Rolt celebrating their Le Mans win
Daily Telegraph newspaper front page celebrating the Jaguar Le Mans win Tuesday 12th June 1953
Le Mans Celebration Dinner Menu held at Jaguar Coventry 17th July 1953 and signed by members of the Jaguar Works Team
Competitor Driving Licence, 14th January 1955 issued by RAC (Royal Automobile Club)
Competitor Driving Licence, 12th February 1957 issued by RAC (Royal Automobile Club)
Motor Racing Season Agreement 1954, between Duncan Hamilton and Jaguar Cars Limited
Draft letter from Duncan Hamilton to FWR "Lofty" England at Jaguar Cars, written after Hamilton was "sacked on the spot" at Rheims for ignoring lap signals, 1956
Duncan Hamilton career resume sent to FWR "Lofty" England at Jaguar Cars, 12th April 1954
Letter of sympathy from Jack Barclay (Bentley Mayfair dealership owner) to Duncan Hamilton regarding Hamilton's protégé, Tony Dennis, whose fatal accident at Goodwood took place whilst driving Hamilton's "D" type XKD 510
Additional Items from the Duncan Hamilton Collection (not on display)
Joseph Lucas Limited, Motor Car Bonus Scheme Season 1953
Letter from FWR "Lofty" England at Jaguar Cars to Duncan Hamilton thanking him for his copy of Hamilton's autobiography "Touch Wood"
Maître L'Ecole Jaguar Medal (boxed)
"Le Mans 1953, the Story of a Great British Achievement" (Motor Racing Publications Limited, London, 1953)
Ralph Sallon watercolour caricature of Duncan Hamilton
Duncan Hamilton Oulton Park "Drive Yourself" Racing Game Bell (Toys and Games) Limited, London, England 1957
Submarine Seafire Mk IIb Vokes scale model kit, as flown by Duncan Hamilton during his Second World Warservice in East Africa
Irish Motor Racing Club Limited, Silver Medal
Irish Motor Racing Club Limited, Bronze Medal
N.R.A. Ashburton Shield 1936
Le Mans 1953 Photograph Album celebrating J. Duncan Hamilton and Tony Rolts' victory
Autosport Magazine reproduction of the Daily Telegraph newspaper headline reporting the 1953 Jaguar Le Mans win. Autosport, June 1953
Luncheon invitation at the RAC, in celebration of 1953 Le Mans win, signed
Driving Licence 14th January 1950 issued by RAC (Royal Automobile Club)
Road Circuit Racing Medical Certificate dated 4th April 1957
ACP (Automobile Club of Portugal) II Circuito Internacional Do Porto, Portuguese Grand Prix Badge Prova 1951
A.G.A.C.I. Coupe De Paris 1954, Cup
German Grand Prix Badge, Nurburgring 29th July 1951
ACP (Automobile Club of Portugal) III Circuito International do Porto, Grande Premio De Portugal (Portuguese Grand Prix) 1952
Kungl.Automobilklubben, Swedish Grand Prix 1954
ACP (Automobile Club of Portugal) III Circuito international De Lisboa, Monsanto Volta, 23-24 July (Portuguese Grand Prix) 1955
Jeunesse De Sport Gold Medal of France, 1957
RAC (Royal Automobile Club) the British Grand Prix Silverstone, won by J. Duncan Hamilton
Sketch Depiction of "Hamilton's Home Made Car" (artist unknown) dated 1939
Letter from Duncan Hamilton to the Automobile Club of France regarding the Montlhery race entry of his Le Mans winning car "Complete with disc brakes"
APC (Automobile Club of Portugal) VI Circuito Internacional Du Porto 1955
B.A.R.C. (British Automobile Racing Club) Badge number 3414
We would love to hear what you thought about our exhibition. Please click the button if you would like to take part in a survey. The results will form part of Lavinia's End Point Assessment for her Apprenticeship and so we can improve our future exhibitions: