Jaguar C-type # 18 driven by Duncan Hamilton at Le Mans, Roy Nockolds, 1953
The Artwork
This is one of nine paintings by artist Roy Anthony Nockolds in the Jaguar Daimler Heritage Trust's collection, most of which were commissioned by Jaguar Cars, and depicts the 1953 Le Mans winning, 3.4 litre XK engine powered, C-type car # 18, being driven by Duncan Hamilton. 
Nockolds' painting has a real sense of speed and action about it with Hamilton, in his red crash helmet, leaning into the bend as the car clips the apex. The car is low on the front right suspension and the tyre marks on the track behind the car give the impression that the rear is sliding slightly. He is being followed by the Ferrari 375 MM, number # 12, powered by a 4.5 litre V12 engine, which was driven by Italians Alberto Ascari and Luigi Villoresi which had yet to turn into the bend. 
Stirling Moss in a C-type lead the race for a while until his car developed ignition problems, allowing Villoresi to take the lead and then around 6.00 pm Hamilton overtook Villoresi to lead the race. This set the stage for rest of the race where the Ferrari and Jaguar  teams swapped lead a number of times. The low sunlight streaming through the trees shows that this is fairly late afternoon, early evening, depicting the period not long after Hamilton took the lead.
The painting is currently on public display in the Collections Centre at the British Motor Museum at Gaydon. 
Nockolds depiction of Hamilton wearing a red crash helmet is historically accurate.
From September to December 2023, we ran an exhibition on Hamilton which featured this very same helmet alongside other items. The inspiration behind this exhibition is the loan from the Hamilton family of archive material belonging to the late Duncan Hamilton.
Click the button to view the online version of this exhibition: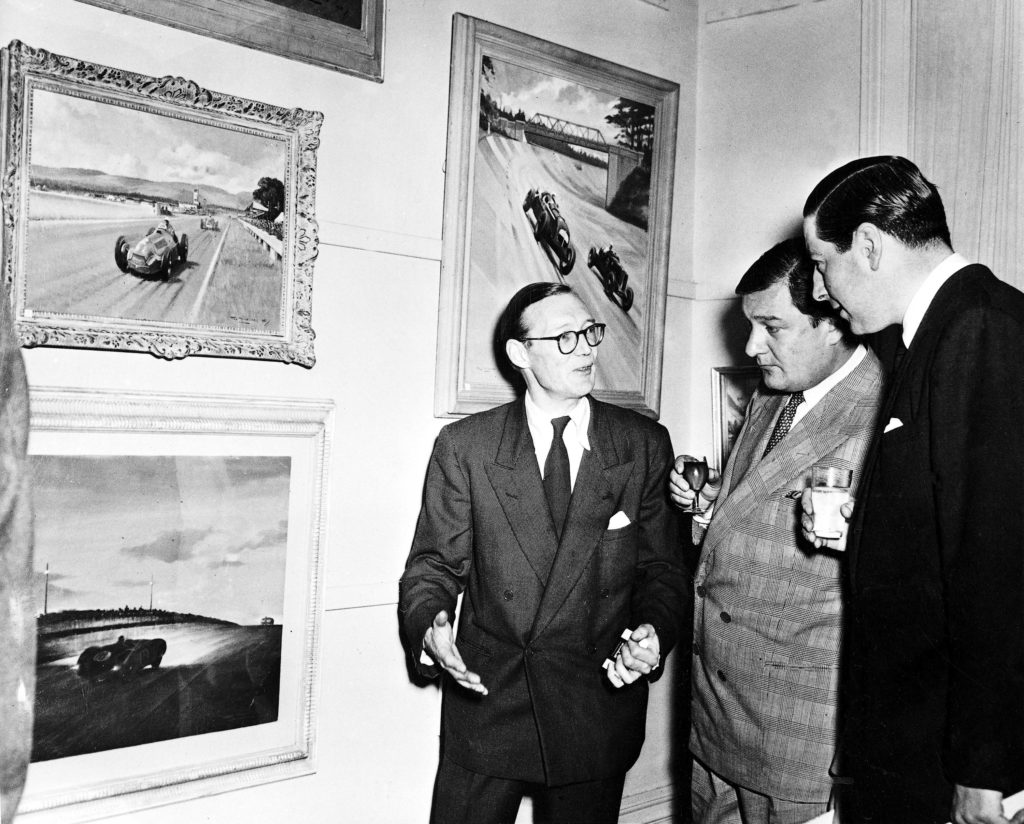 The Artist
Roy Nockolds was born in Croydon in 1911. He always claimed that his only successful subject was art and this was confirmed by two certificates from the Royal Drawing Society in 1922 (age 11) and 1923 (age 12). According to Nockolds' recollections he first visited Brooklands in 1924 (age 13) where he became impressed by the power and speed of the racing cars and within two years, he was producing motoring art. By the time he was in his teens he was getting his pictures published in the motoring press. His early work was mainly pencil and charcoal drawings, but he also used ink, scraperboard, lino cut and dry point etching as well as watercolours. 
F Gordon Crosby was already illustrating for The Autocar and Nockolds was fortunate to have most of his early work published by Motor Sport and Light Car. Although to his credit, Autocar was publishing full page reproductions of some of his etchings in 1932 (age 21). The first recorded exhibition of his work was in December 1934 at the Lombard Restaurant, Cheyne Walk, Chelsea.
Around this time he was working as a freelance artist although some of his work was being used by The Motor to illustrate a weekly series of famous corners on racing circuits.
The start of war in 1939 brought a cessation of motor racing for the duration and Nockolds carried on working from his London studio as a general illustrator and for the services, particularly the RAF producing propaganda art. 
In 1942 he was asked to look at improving the camouflage of night fighters. He noticed that a white owl was more difficult to see against a night sky than a dark bird. His idea was to paint the leading edge of the wing and underside of the aircraft white and the top of the aircraft black making it difficult to see from above and below. He prepared a painted model of a De Haviland Mosquito aircraft which was transferred to a full sized plane, resulting in the whole of 151 Mosquito Squadron being converted to the new scheme within days. Other camouflage work led to him being called up into the RAF at the end of 1942, initially as a Clerk, but by 1943 he was posted to the aircraft research station at Farnborough where he had civilian status. He continued the propaganda paintings and his work on camouflage of aircraft, particularly bombers and accepted commissions to supplement his income. The end of the war saw the restart of racing and he resumed his motoring artworks including commissions from car makers such as Ford, Standard, Rover, Rolls-Royce and the Rootes Group and component manufacturers such as Lockheed and Lucas.
It was during this period that he was commissioned by Jaguar and some of the sponsors and suppliers to produce all the paintings that we have in our Artwork Collection. Nockolds' connection with Jaguar began when the Esso Petroleum Company commissioned him to depict Le Mans 1951 when Peter Walker and Peter Whitehead drove their C-type through pouring rain to give Jaguar their first victory at Le Mans. He then worked closely with Jaguar's PR Manager Ernest (Bill) Rankin for the next decade undertaking a series of commissions, many of race winning situations but also pictures for calendars, Christmas cards and advertising posters. He was a master of combining light and texture into his work to give the impression of speed and this comes across in several of our paintings.
His work was displayed in many exhibitions in the UK and twenty-four of his paintings were exhibited in New York in 1960 in an exhibition entitled 'British Motoring Achievements'. This was a collection of paintings depicting outstanding performances of British cars during the previous ten years including some of our race winning Jaguar pictures.
Nockolds took a very keen interest in the Brooklands society founded in 1967, being an early Committee Member and the Chairman from 1976 to 1978, only resigning with the onset of ill health. He was elected Chairman of the Guild of Aviation Artists in 1975, and continued to paint late into his life before passing away in 1979.
Jaguar C-types and the 1953 Le Mans Race
Jaguar Cars won the Le Mans race in 1951 with their new C-type – first time out. They entered three modified C-types for the 1952 Le Mans, all of which failed to finish and returned in 1953 by which time the competition, mainly in the form of Scuderia Ferrari, were catching up. 
Jaguar had to respond and the C-type design was improved and the body was built from thinner gauge, lighter, aluminium sheet resulting in a significant weight reduction. 
The main difference was what became known as Jaguar's 'secret weapon'. 
Jaguar had been working with Dunlop to develop disc brakes for use on their racing cars. A disc brake equipped C-type had been raced in the Mille Miglia in Italy, but failed to finish. 1953 was the first time any disc brake equipped cars had entered for Le Mans.
Initially the race scrutineers questioned whether the Jaguars actually had any brakes fitted – as they expected to see brake drums. Rather than outright speed it was the ability to out-brake Ferrari that enabled Hamilton and Tony Rolt to win the race. The disc brakes had greater stopping power than drums, meaning they could brake later and from higher speeds and the ability of the brakes to dissipate heat meant they didn't have to worry about overheating the brakes. 
The C-type of Moss and Peter Walker was given the task of acting as 'hare' – racing as fast as they could from the outset to encourage Ferrari to race and brake as hard as possible, for as long as possible. Although Moss had problems for a while, the strategy worked with only one Ferrari finishing the race, in 5th place, 10 laps behind the winning C-type. Not only did Jaguar win but Moss and Walker brought their car home 2nd and Peter Whitehead and Ian Stewart came in 4th.
Following the Le Mans race the car was sold on, as Jaguar moved on to develop the D-types for the 1954 racing season. It continued to be raced and changed ownership a number of times before ending up in a private collection.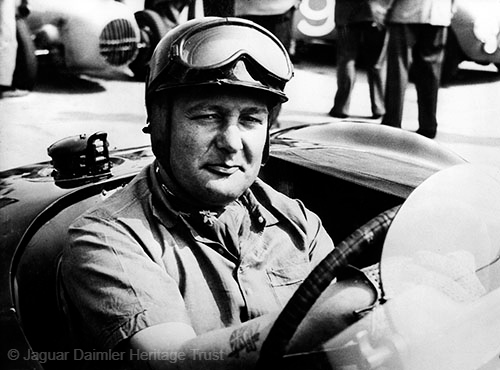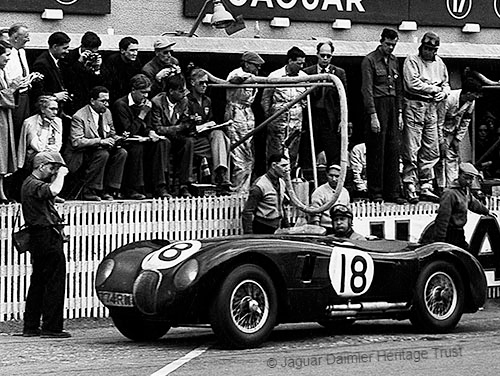 1953 C-type NDU 289
The Jaguar Daimler Heritage Trust does have a 1953 C-type in our collection which is very similar in specification. It was ordered by Italian racing driver Mario Tadini to enter for the Mille Miglia and was built before disc brakes became an option. Tadini did not finish the Mille Miglia and in 1954 the car was sold on to Swiss racing driver Ivo Badaracco who raced it on a number of occasions. It was sold on again in 1961 to Silvio Moser and then went through a number of changes of ownership. 
JDHT bought it in 1983 and it is normally on display at the British Motor Museum at Gaydon. The car is MOTed annually and kept in running and driving condition. It has been run at Goodwood, Coventry Motofest and numerous other Jaguar related events. 
Click the button for more information on NDU 289: