1953 Jaguar C-type NDU 289 Bought for the 1953 Mille Miglia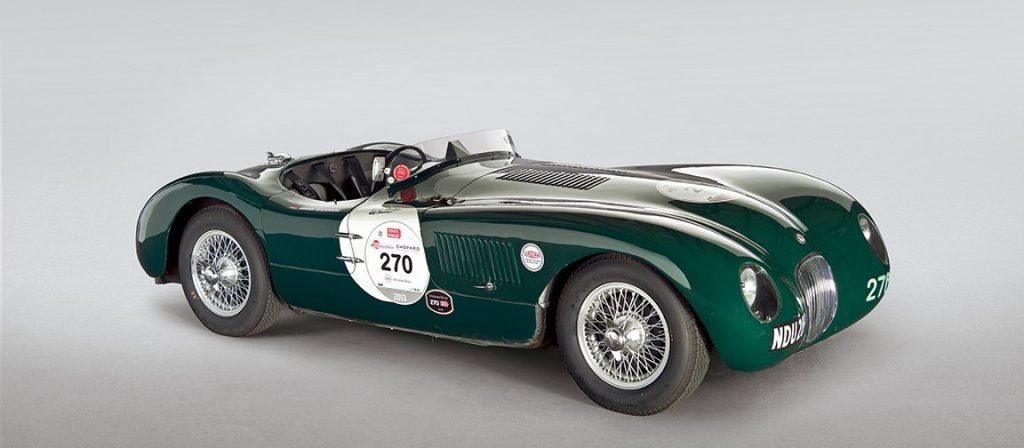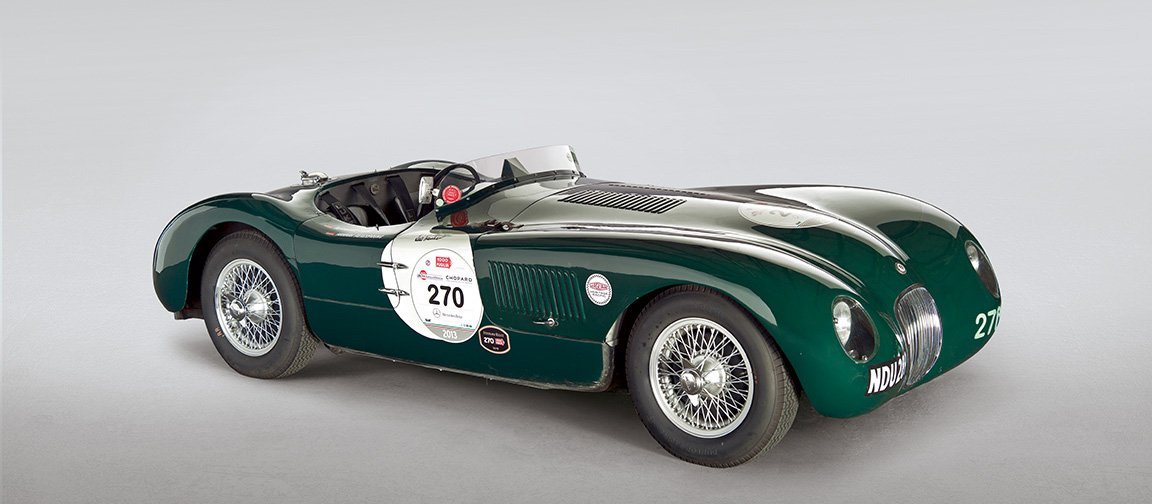 This C-type is one of the later production cars, and unlike the 1953 Works cars it was still fitted with SU carburettors and drum brakes.  It was bought by the Italian driver Mario Tadini who entered it in the 1953 Mille Miglia, but retired.  After many years in Switzerland, it came back to the UK in the 1970s and was bought for the JDHT in 1983.
The C-type brought Jaguar its first victory in the Le Mans 24-hour race.  The XK120 had demonstrated its abilities in racing, by finishing twelfth in the 1950 Le Mans driven by Leslie Johnson.  It was clear that the company had the makings of a world-beater, so chief engineer William Heynes set to work to create a competition version – the XK120C, or C-type, primarily for the Le Mans race.
Using the XK120's proven engine, transmission and front suspension, Heynes devised a more rigid, lightweight tubular chassis.  This was fitted with a handsome wind-cheating aluminium body, designed by Malcolm Sayer, the ex-Bristol aerodynamicist.  The engine was tuned to 260 bhp, the brakes were improved, and the rear suspension now used transverse torsion bars.  The first cars were ready in the spring of 1951.
Almost immediately, three cars were entered at Le Mans.  During the race two cars retired but the third, driven by Whitehead and Walker, won at an average speed of 93 mph (150 km/h).  The C-type body was modified for the 1952 race, but all the team cars retired with cooling problems.  For the 1953 race Jaguar reverted to the original body design, and fitted the cars with the revolutionary Dunlop disc brakes.  The three cars entered finished first, second and fourth.  The winners, Rolt and Hamilton, averaged a speed of over 100 mph (161 km/h) for the first time in the history of the Le Mans race.
Although the C-type was a hand-built machine, it was listed in Jaguar's sales catalogue (at a price of £2,327), and of the 53 cars built, 43 were sold to private owners.
Race Results
Year

Date

Race
Result
Car / Co-driver

Entrant / Team
(if not himself)

1953
26 April
Mille Miglia, Italy
DNF
Mario Tadini /
Pietro Cagnana
Mario Tadini
1954
21 August
Preis von Bremgarten, Bern, Switzerland

3rd 
Ivo Badaracco
Ivo Badaracco
Registration Mark: NDU 289 (9 April 1953)
Chassis Number: XKC045
Owner: The Jaguar Daimler Heritage Trust
Inventory Number: 046/J.13
Price when new: £2,327
Price: 302 Weeks Average Wage