2010 C-X75 Micro Turbine Hybrid Hyper Car
Created to celebrate 75 years of Jaguar, Project C-X75 is the ultimate expression of the brand's design and engineering innovation. The C-X75 was revealed as a concept at the 2010 Paris Motor Show, where it received AutoWeek's coveted "Best in Show" award and the 2010 Louis Vuitton Classic Concept award.
Project C-X75 was designed to deliver stunning on-road performance, while adopting cutting-edge technology for remarkably economical running.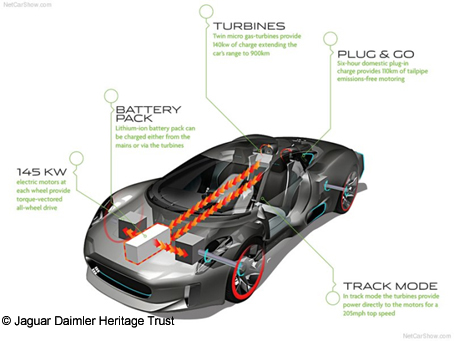 C-X75 is a range extended hybrid with a 19 kWh lithium-ion battery pack powering four 195-hp electric motors – one for each wheel. The batteries are re-charged by two 70 kW micro turbines made by Bladon Jets which provide additional power to the electric motors when needed.
The advanced power-train gives an all-electric range of 110 km (68 miles) plus a potential top speed of 330 km/h (205 mph), acceleration from 0-100 km/h (62 mph) in 3.4 seconds, and 80-145 km/h (50-90 mph) in just 2.3 seconds.
Active aerodynamics allow for a simple fuselage section that remains stable at very high speeds. The hybrid technology results in CO2 emissions of just 28 g/km on the EU test cycle.
The twin seats are fixed and the steering wheel, controls, main binnacle and pedal box all adjust towards the driver. The seats are attached to the bulkhead as in a single-seater racing car, and air to feed the turbines passes smoothly around them via channels in the structure of the body.
The design team combined designs from instrumentation in the new XJ saloon with those from fighter aircraft to create virtual 3D 'gimbals' around which the gauges wrap and rotate to provide status updates.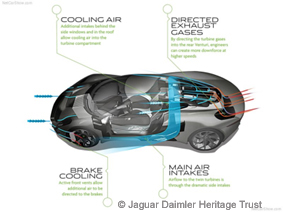 C-X75 stays true to the long-held Jaguar design philosophy of natural, flowing lines and simple, elegant forms. The design team took their inspiration for the innovative engineering and functional design elements of cars like the 1950s C-type and D-type racers and unique 1966 XJ13.
The C-X75 was reviewed on the BBC Top Gear programme by Richard Hammond and James May.
Vehicle Specification
Body & Chassis: Coupé, 2 doors, 2 seats, extruded and bonded aluminium chassis and body with carbon fibre reinforcement, active aerodynamics
Engine: Twin lightweight micro gas turbines, lithium ion battery pack, individual electric motors driving each wheel
Power:
| | |
| --- | --- |
| Turbines | 70 kW (90 bhp) @ 80,000 rpm |
| Electric motors | 145 kW (195 bhp) each |
| Total power | 580 kW (780 bhp) |
| Torque | 1,600 Nm (1,180 lb ft) |
Weight: 1,350 kg (2,970 lb)
Max Speed: 330 km/h (205 mph)
Acceleration: 0-100 km/h (62 mph) in 3.4 seconds
Transmission: No gearbox; direct coupled electric motors, 4 wheel drive
Dimensions:
| | |
| --- | --- |
| Wheelbase | 272.5 cm (107.3 in) |
| Length | 464.7 cm (183 in) |
| Width | 202.0 cm (79.5 in) |
| Height | 120.4 cm (47.4 in) |
| Weight | 1,350 kg (2,970 lb) |