What's On
'When Jaguar Bought Daimler' Exhibition
Saturday 10th October to Sunday 28th February
THIS EVENT HAS NOW ENDED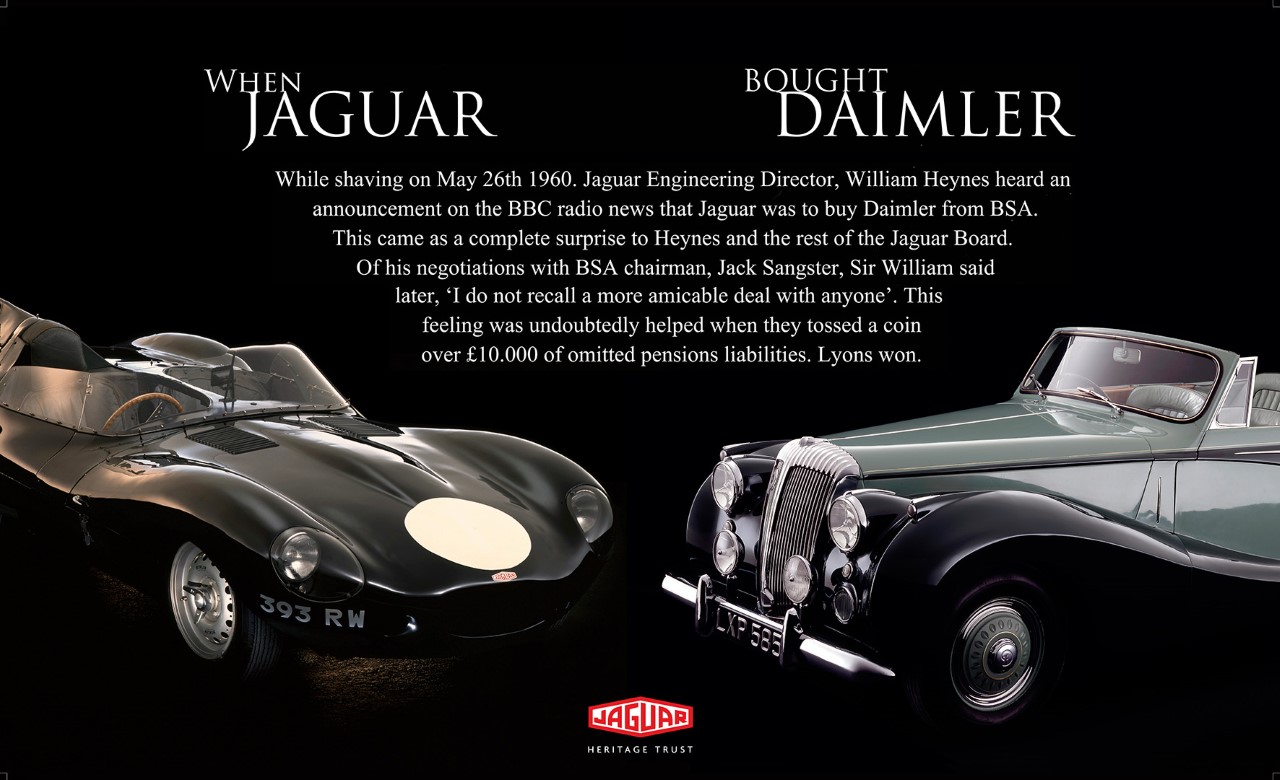 'When Jaguar Bought Daimler' is a new exhibition at the British Motor Museum, from the  Jaguar Daimler Heritage Trust (JDHT), telling the story of when Jaguar bought the Daimler Company from BSA in 1960.
The exhibition will run from 10 October 2020 to the end of January 2021.  It starts by detailing Sir William Lyons' requirement for additional factory space, which fortuituously concided with BSA's desire to divest themselves of the loss making Daimler Company.
The exhibition explains the background behind the deal that was struck between Sir William and Jack Sangster of BSA, without the knowledge of Jaguar's board of directors.  This is exemplified by the opening headline of the exhibition:
"While shaving on May 26th 1960 , Jaguar Engineering Director, William Heynes heard an announcement on the BBC radio news that Jaguar was to buy Daimler from BSA.  This came as a complete surprise to Heynes and the rest of the Jaguar Board."
The exhibition covers 100 years from the Daimler Company's beginnings, its history of Royal patronage, superb engineering, efforts supporting both World Wars and then Daimler's 'post Jaguar' life.  A series of period advertisements provide a snapshot of Daimler's social history.
The following Daimlers from the JDHT Collection are included in the exhibition:
Most people know very little about the early history of the Daimler Company in the UK, or when it became part of the Jaguar Group, and the 60th anniversary of Jaguar's purchase of the company from BSA provides the ideal opportunity for us to tell the story.
The exhibition is included in the normal British Motor Museum admission.  Museum entry is £14.50 for adults, £12.50 for concessions, £9 for children (5-16 years) and under 5s are FREE.  There is also the option to Gift Aid or donate your entry fee and get an Annual Pass in return, at no extra cost.